Do democratic institutions like the British Citizens Assembly exist in the EU?
Chaitanya Kumar is Head of Environment and Green Transition at the New Economics Foundation
Cross-posted from the website of the New Economics Foundation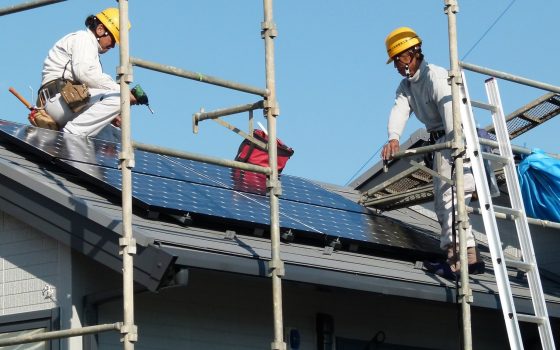 Image: CoCreatr (CC BY-NC-ND 2.0)
In the first of its kind in the UK, a National Citizens Assembly has deliberated and this week produced a detailed set of recommendations to get the UK on the path to net zero carbon emissions. 108 people representing a cross section of British society heard from experts and advocates on ways to cut carbon emissions, before developing a set of recommendations. Commissioned by six parliamentary select committees, the assembly is an attempt to democratise the debate on solutions to the climate crisis and chart a popular course to meeting the country's legally-binding carbon targets. I had the privilege of being one of the advisers on the assembly, helping design the programme and suggesting expert witnesses.
Amidst the ongoing Covid-19 crisis, the assembly was clear in its message that the economic recovery from the pandemic should be designed to help achieve net zero. The assembly's recommendations have wide-reaching implications for the way we travel, eat and consume in the 21st century. Their policies are bold, eminently sensible and readily implementable across the UK. For instance, on surface transport, the assembly suggests ending the sales of petrol and diesel cars by 2030/​35 along with cutting car usage between 2 – 5% every decade, and making public transport free or affordable.
The report emphasises the importance of energy efficiency and upgrading our homes to higher standards, with a majority of participants leaning towards a one-leap approach as opposed to piecemeal and costly retrofits. To address the challenge of providing clean heat, the assembly suggested bespoke solutions suited to different parts of the country and population densities, including hydrogen, heat pumps and district heating. For an energy geek like me, it is heartening to see these terms being debated publicly and amplified by the media. Normalising them will be critical in gaining public support for these technologies so they can be adopted faster.
The Committee on Climate Change indicated last year that a majority of the solutions to reaching net zero will require some form of behavioural change from individuals. From overcoming anxiety about driving electric cars long distances, to adopting a greener, cleaner diet — our lifestyles are as much a solution to the climate crisis as they have been the cause of it.
The assembly's recommendations are much more nuanced on these aspects of our food, farming and flying than the loud media headlines we often see. Members deliberated a series of carrot and stick measures that included levies on frequent flyers, incentives for farmers to promote sustainability, and taxes for reducing food waste.
One of the most interesting outcomes of the assembly is the strong concern they had around technologies to suck carbon out of the air, like carbon capture and storage (CCS), CCS with bioenergy, and direct air capture. The assembly's concerns were primarily around their cost, safety and unproven nature. The current government however is actively funding these technologies and the best available scientific evidence indicates that some form of technology CCS fix, alongside mass tree planting, might be necessary to keep us from blowing the 1.5 degree global warming threshold. This poses some interesting challenges for proponents of these technologies, who have to do a lot more work to convince the public of their merits.
It is perhaps also unsurprising that the principles underpinning all the policy recommendations from the assembly include public education and fairness. These may seem obvious but they are unfortunately underexplored by many of the mainstream environmental organisations. This is where NEF works to buck the trend to ensure that policies do not disproportionately burden those with the least resources in our society.
So for instance, calls to raise fuel duty have to be accompanied by measures to make it more progressive. Demands for phasing out polluting cars need to follow a scrappage scheme or subsidised options for public transport. If there is one clear suggestion from the assembly for think-tanks and green NGOs to take on board, it is that our policy ideas and advocacy work need a human face.
A small but important gap in the assembly's conclusions was the low priority assigned to global fairness. It is absolutely critical to acknowledge the UK's global responsibility for historic carbon emissions, and understand the highly interconnected nature of climate change and its impacts. Losing sight of that risks widening the space for toxic rhetoric on climate refugees, foreign aid and passing the blame on to developing nations like China and India.
Unlike the French climate assembly that required the government to implement its recommendations, the UK Climate Assembly recommendations are not legally binding. But they do provide a strong mandate to policymakers and a useful shield to politicians in pushing these policies without incurring the supposed wrath of the British public, as some newspapers might have you believe.
The climate assembly met across six weekends this summer. There are inevitable limits to how much one can learn over such a short period of time, but the seriousness of this issue demands more such exercises in deliberative democracy. Some local authorities have already taken the initiative and are consulting their citizens on the coming changes owing to climate policy.
NEF is playing its part too. Among others, we are working closely with the Croydon council in setting up the Croydon Climate Commission last year, following a local citizen's assembly. The Commission will produce recommendations for how the borough can become carbon neutral while raising living standards. We will support the council in implementing these while continuing to push for a green recovery from our national government.
BRAVE NEW EUROPE brings authors at the cutting edge of progressive thought together with activists and others with articles like this. If you would like to support our work and want to see more writing free of state or corporate media bias and free of charge, please donate here.