The latest scandals to have hit the EU should come as no surprise. The EU and its institutions are corrupt by design, largely as a result of three fundamental pillars that serve to concentrate power into the hands of the very few at the expense of the people
Cross-posted from the website of DiEM25https://diem25.org/the-three-pillars-corruption-explained/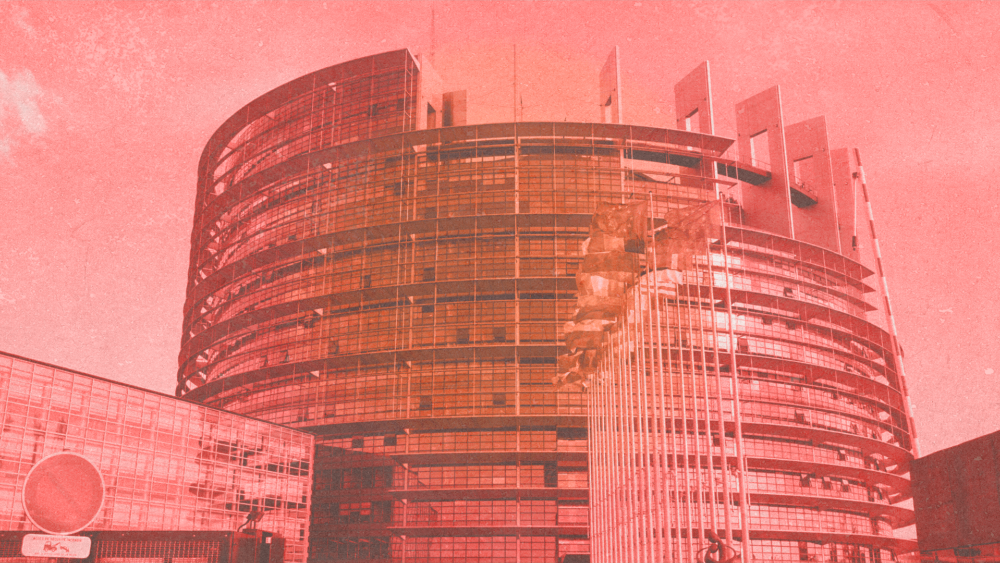 Corruption at the highest levels of the European Union is certainly nothing new, but the recent scandals that have emerged, in particular regarding Greek MEP Eva Kaili, have once again thrown the matter under the spotlight.
This Qatar corruption probe that is rocking the European Parliament in addition to the European Central Bank demanding legal fees to intimidate DiEM25 for daring to ask for information that should be publicly available led us to discuss the extent of EU corruption on our recent livestream.
At the top of this discussion, DiEM25 co-founder Yanis Varoufakis laid out how and why the EU is stooped in an endless loop of scandal, explaining the three fundamental points that make it corrupt by design.
Three pillars of EU corruption
Point #1: Corrupt by definition
Every capitalist political system is corrupt by definition.
Let's not forget that the state emerged out of feudalism and evolved under capitalism, as a set of institutions the point of which is to stabilise the pattern of exploitation, the pattern of extraction of value from people who produced it to those who are usurping it. So there is no capitalist political framework than can be anything other than, to some extent, corrupt.
Point #2: It is a cartel of big business
The European Union is much deeper steeped into corruption because it is not even a standard state. It is a cartel of big business.
It doesn't even have the checks and balances that a normal state has.
There's no way we can dismiss [Ursula] von der Leyen, really.
There is a whole political system that is created in Brussels outside the democratic process – we have not selected her, we have not selected the [European] Commission. The only people we have selected is the European Parliament which actually does not have the right or the power to legislate.
Point #3: It was created to be maximally corrupt
If you look at the way in which the power to distribute huge quantities amounts of money in Brussels [and] in Frankfurt, if you analyse it even very epidermically, you come to the conclusion that it was created to be maximally corrupt.
When you've got 30-40,000 professional registered lobbyists in Brussels whose job it is to peddle influence, to wine and dine bureaucrats and MEPs, in order to control them and in order to push them into the direction of particular policies that benefit the bosses of those lobbyists then what do you have? You have a system of orchestrated organised semi-legal corruption.
The only duty of a Member of European Parliament regarding these relationships with lobbyists is to have a register, a book in which you say 'well, on Wednesday afternoon at 3 o'clock I met with this lobbyist' – you have no obligation to discuss what you talked about , what it is that you gave them in return for what.
The ECB story and its attack on DiEM25
If you add to that the creation of the monetary union beginning with Maastricht, and then in 2000 when we had at the same time the system of lobbyism in Brussels, a large building in Frankfurt – the European Central Bank – was erected with a capacity to print our money but without a state of who this central bank was the central bank of.
What is the European Central Bank the central bank of? 20 countries, none of which own that central bank, none of which can actually control that central bank, none of which can actually legislate in a way that has a serious impact on what the ECB is doing.
The moment they created that monster, the ECB, a central bank without a state to have its back, and deliver 20 states together with their separate banking systems to this central bank to print their money for them. Then you had the makings of a massive financial crisis which hit Europe in 2010, and then the only way to save that monetary union was to print trillions. The same central bank that printed trillions without any parliamentary process, without any checks and balances, the same central bank was the one that was instructed by the powers that be in the financial sector, in the Berlin federal government, to close down banks in places like Cyprus, in places like Greece, to threaten to shut down banks in Italy, in order to blackmail the governments of those countries to follow severe austerity programmes in the last ten years or so.
In 2015 when I was the finance minister of Greece, around April, the European Central Bank was blackmailing us to accept disgusting, deep, austerity cuts for the weakest of our citizens, pensioners that lived on 300 euros a month, and at the same time the central bank of Europe in Frankfurt was planning to shut down our banks – as they did in the end in June – in order to blackmail us.
Months later I found out that the ECB was so worried about the legality of what it was doing, even though there is no real legal framework in which to function, that the president of the European Central Bank then, Mario Draghi, had actually sought and paid for a private legal opinion on whether he could shut down our banks. This was a legal opinion that was procured with European tax payer money.
Fabio De Masi and myself… we sued the European Central Bank and demanded to see what that legal opinion said, and our point was very simple: if the legal opinion that you purchased with our money gave you the green light to shut down our banks and bring disaster to the people of Greece, and blackmail us and overthrow our government effectively, then why don't you share it with us? Alternatively, if the legal opinion says that what you did was illegal, then what you did was illegal. So we have a good reason and a good cause to find out what that legal opinion said. And the answer was 'no'. They defied the Freedom of Information Act.
In the end we lost the case because the European courts always side with the ECB. And recently they asked us [DiEM25] for 20,000 euros – the bank of Europe that printed 5-6 trillion euros on behalf of the oligarchy and against the people and the voters of this and other countries of the European Union, have the audacity to ask of DiEM25 for 25,000 euros for their legal costs for having won the right to keep Europeans in the darkness about what it is they have been doing.
The tip of the iceberg
So taking together the cartel in Brussels, the lobbyists, the practices of the European Central Bank, the practice of litigating against citizens and movements like DiEM25 whose great crime is to effectively call them out whenever they are being opaque and corrupt, this is the grand picture.
Qatar was doing its business, it was staging a scandalous World Cup in Qatar.
It's a pretty damning example but it's only the tip of the iceberg – it's a huge iceberg, that of corruption which is institutionalised and embedded within the fabric of this cartel that goes by the name of the European Union.
You decide if we close down BRAVE NEW EUROPE and the Gig Economy Project
At the end of 2022 thanks to many of you we had raised round 13,000 GBP/€/ for 2023. With 14,000 we can continue, although in a reduced format of five days a week. Thus we are asking those of you who have not donated yet to do so. If we made it this far, we should manage the last mile.
Please donate HERE