Many Remainers in the EU and Ooooh-EUs idealise German climate policy and democracy. Actually it is rather different as soon as you look past mainstream media
Ende Gelände disrupts Rhenish lignite mining area
Hauke Benner is a former journalist and currently a political activist against climate change.
Translated and edited by BRAVE NEW EUROPE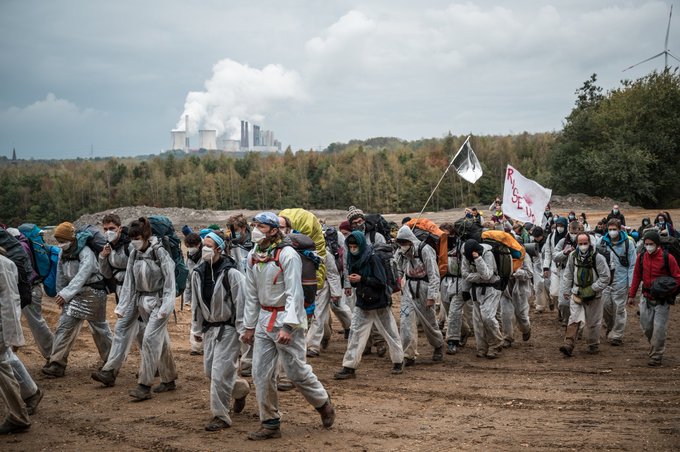 When people leave the city limits of Cologne on their way to Mönchengladbach or Aachen, huge cooling towers and chimneys of the largest lignite power stations in Neurath and Niederaussem stand up against the Skyline. The view of the lunar landscape of the up to 400-metre deep open-cast mines is blocked from view by earth walls from passers by. This is the largest lignite mining area in Europe and more CO2 is emitted into the air here than anywhere else in Europe. According to the German Federal Environment Agency, the RWE Group alone was be responsible for 25% of Germany's total CO2 emissions of 869 million tonnes in 2018. Despite the agreed phase-out of coal in 2038, the area of the largest mine, Garzweiler 2, is to be expanded. The villages of Keyenberg, Lützerath, and four neighbouring towns will probably fall victim to RWE's excavators.
For decades, the RWE Group has maintained close financial ties with local and state governments. Individual towns and cities still hold shares in the RWE Group, and the entire Lower Rhine region between Cologne and Aachen is still dependent on dividend payments, tax revenues, and donations from the Group, not to mention the thousands of people, including politicians, on RWE's payroll.
Private interests in secured profits interlock with the political interests of maintaining existing fossil fuel energy production
As in the past, in recent days the state government of North Rhine-Westphalia had deployed its police units, with equestrian teams, pepper spray, and notoriously brutal units, to defend the interests of the RWE Group against the climate activists. Nevertheless, on 26 September, 3,000 Ende Gelände activists successfully blocked the coal and gas infrastructure in the Rhenish coalfield. In recent years several coal-fired power plants have been converted to gas and new pipelines are currently being built, including for liquefied natural gas. Compared to renewable energy sources, CO2 emissions from gas power plants are considerable, and this year, for the first time, the gas infrastructure was blocked by Ende Gelände.
The action groups reached the Garzweiler opencast mine, its coal bunker, the Weisweiler coal-fired power station and the Lausward gas-fired power station near Düsseldorf. "We are here today to expose natural gas as a climate killer. Clean natural gas is a dirty lie. It is madness to invest billions in natural gas, pipelines and fracking ports instead of renewable energies. Natural gas is a fossil dead end and not a bridge to the future," says Kim Solievna, spokesperson for Ende Gelände.
Last weekend North Rhine-Westphalia was ruled by police state law
Citing "instructions from above" the freedom of assembly of activists were massively restricted. The right of assembly, which is highly protected by the German constitution, became dependent on the goodwill of police commanders throughout the region. Some police officers declared, "I know I'm not allowed to do this, but I'm doing it anyway". The violence and assaults of the police officers were evident everywhere, there were several police kettles, sexist assaults at a prisoners' collection point, in a train from Cologne early Saturday morning the police beat the "green column", one of the Ende Gelände groups, and prevented them from continuing their journey, several seriously injured people were taken to hospital. On Twitter, activists and parliamentary observers documented cases of disproportionate police violence on video. For example, the "coloured column", a further Ende Gelände group in which physically handicapped people were participating, was attacked by police dogs without muzzles.
Active protests in times of Corona
Ende Gelände had worked out a strict hygiene concept with anonymised personal data, which was deposited with a lawyer. Nine decentralised camps were organised and 14 columns (these are action groups that block neuralgic points of the fossil fuel infrastructure), including one "anti-colonial" column with People of Colour and one "colourful" column with disabled people. Friday for Future' joined together with the "Anti-Coal Kids" in a march towards the open-cast mine. But unlike last year, when twice as many women took part, this time the columnss were much smaller and therefore more quickly surrounded by police units.
On Friday, 25 September, in Germany alone more than 200.000 people took part in the global strike of 'Fridays for Future'. On Saturday, Fridays for Future and the initiative "Alle Dörfer bleiben!" (All Villages will Remain!) protested at the Garzweiler open-cast mine for climate justice and the preservation of villages threatened by destruction. "We will no longer stand idly by as the excavators come closer and closer and take our fate into our own hands with actions like these," said Britta Kox from the threatened village of Berverath.
In Keyenberg – one of the threatened villages – the village restaurant was squatted and reopened on Saturday 26 September by 200 "Ende Gelände" activists. The inn, which was taken over RWE a few months ago, had been closed immediately. RWE is deliberately trying to destroy social infrastructure in order to divide the village communities. "This inn is symbolic of how life is to be destroyed here. We are going to revive it today," a press release from Ende Gelände declared. Squats are a new form of action of the climate movement. "It was important for us to question the principle of ownership", explained Ende Gelände spokeswoman Paula Eisner. "All over the world, villages are being destroyed to secure the profits of corporations." Here, and in Keyenberg, Lützerath, and the other villages, the injustice of capitalist economic activity becomes visible.
Despite the strict corona conditions and the very bad weather, fossil fuel energy production was stopped for a few hours. The local and national press response this year was much more positive; in view of the devastating fires in California and the Amazon. Resistance to the climate crisis is also gaining more and more legitimacy among the population. But even this year, it was only symbolic actions that did more damage to the RWE Group's reputation than material losses in electricity production. Ende Gelände' was able to demonstrate with enormous logistical and political effectiveness that it is the most prominent group in the German climate movement alongside 'Friday for Future'.
In view of the urgency to end of the fossil fuel age even to come close to the 2 degree target, an escalation in the forms of action becomes more and more necessary. The defence of all villages is next on the agenda, and perhaps this will result in a new crystallisation point like the one at Hambach Forest two years ago; and the RWE infrastructure must be sabotaged. After all, abandoning coal is manual labour and we cannot wait until 2038!

Jason Hickel
"We live in a world of multiple, overlapping crises, where new ideas are more important than ever. Brave New Europe provides a much-needed platform for fresh thinking and critical engagement. Please support it."
Please donate here.