For decades the IOC has been plagued by scandals, commercialism, corruption, and authoritarianism. Things are not getting better
Jens Weinreich is a German Journalist
Cross-posted from Jen's blog Sport & Politics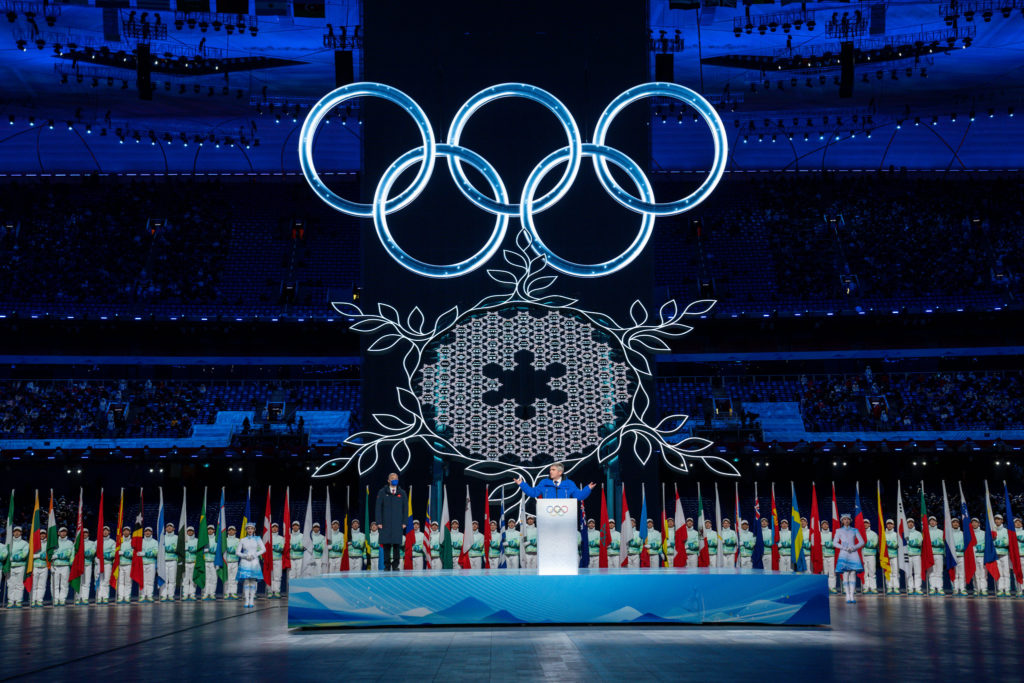 IOC President Thomas Bach during the Opening Ceremony of Beijing 2022. (Photograph by IOC/Greg Martin)
Business is booming. 4.2 billion dollars were collected by the International Olympic Committee (IOC) last year. On 31 December 2021, there was 5.6 billion in the Olympic group's accounts. Many contracts with TV stations and other sponsors run until 2032. They are mighty proud of that in Lausanne, the Capitale Olympique, and the IOC's propaganda department likes to let the world know that.
At the first part of the 139th IOC General Assembly in Beijing, former UN Secretary-General Ban Ki-Moon, a kind of mascot of the IOC, first announced a few unctuous words in his capacity as head of the so-called Ethics Commission. The current UN Secretary General Antonio Guterres also reappeared (and was at Bach's side in the Olympic stadium). Then a video message from Pope Francis was played. On Friday, a few hours before the opening ceremony, IOC President Thomas Bach, as one of the torchbearers, handed over the Olympic flame to Abdulla Shahid, the acting president of the United Nations General Assembly. The IOC is trying everything to present the Beijing 2022 project, which is described worldwide with terms like propaganda games or Genocide Games, in the best light.
But the billions in the accounts and the messages ordered are of little help, the IOC is doing like FIFA, the world football association, once did: in democratic nations, the image of these global institutions is at rock bottom. No amount of money in the world can stop this rapid loss of prestige. Especially since the opening ceremony of the Winter Games shows in which circles FDP member Thomas Bach feels most comfortable with his IOC. Many politicians stayed away from the ceremony and carried out the diplomatic boycott. However, numerous special democrats, dictators and despots were guests. First and foremost Russia's President Vladimir Putin, who is on the verge of breaking the traditional Olympic truce, always pompously proclaimed by the IOC (and the UN), for the third time after 2008 (Georgia) and 2014 (Ukraine, Crimea). Putin also stands for the irregular 2014 Winter Olympics, which the IOC has by no means dealt with as it should in the interest of those athletes who were cheated by Putin's doped state athletes.
Immediately before his meeting with China's state and party leader Xi Jinping, Putin of course said, "Russia is and remains committed to traditional Olympic values. We are against the politicisation of sport and attempts to use it as a tool of pressure, unfair competition or discrimination." Everything remains the same. Those who abuse sport for political purposes palaver about Olympic values. It was the same at the 2008 Summer Games in Beijing.
At that time, China's President Hu Jintao issued the almost legendary slogan: "Don't mix politics with games." His successor Xi Jinping, who was then already in charge of the Summer Games mega-project, addressed the IOC General Assembly on Thursday: "China is a champion of the Olympic spirit!"
And Juan Antonio Samaranch, that investment banker with branches in China who headed the IOC Coordination Commission for Beijing 2022, steadfastly brands those who stay away from the Games. "We must not accept political interference, otherwise the Olympic values would disappear," is one of Samaranch's phrases. "Whether politicians stay away from the Games has absolutely no influence on the quality of the Games."
In the spirit of his father Juan Antonio Samaranch Sr, who died in 2010, led the IOC from 1980 to 2001 and to whom several museums are dedicated in China, as well as a foundation run by his son, Samaranch also said, "Beijing has the best sports facilities in the history of the Winter Games. Beijing is probably the safest place on earth today."
Wasn't there something? A pandemic? "We unite humanity after the shadows of the pandemic," Xi Jinping announced to the IOC session. His will be done.
One should not just shake one's head at such messages. First of all, it is striking that Samaranch Junior has positioned himself as Thomas Bach's successor should Bach actually leave office in 2025 – should the Olympic Charter not be amended by then to allow Bach a third term, that is also conceivable. Samaranch Junior came to the IOC in 2001, when his father was taking his leave: the session was held in Moscow, under the patronage of Vladimir Putin. It was the session that chose Beijing as the 2008 Olympic city, which was also a farewell gift to the old IOC patron. Samaranch, Putin, Russia, China – these are Olympic timelines and power blocs.
It is also striking, and has been for a long time, how much the arguments of Thomas Bach and his propagandists and those of Xi Jinping and his propaganda army have merged. It no longer makes any difference who is speaking. Thomas Bach did not use the term human rights in his speech to the IOC General Assembly. Not even that. He did, however, speak at length about the "dark clouds of the growing politicisation of sport". He was not referring to Putin and Xi Jinping, to whom he already awarded the highest IOC honour, the Olympic Order, in 2014. "The boycott ghosts of the past resurfaced," he scolded.
If in the summer of 2008, during the Summer Games in Beijing, one could still see some pain in Bach's predecessor Jacques Rogge when he let himself be led through the Olympic ring on a nose ring by the Chinese Communist Party bigwigs, it is quite different with Bach. Certainly, he stutters mightily and is frighteningly weak in terms of language and arguments when he has to answer the questions of the world press. Surprisingly, not only the ordered questions of so-called journalists from the Chinese state media are admitted. But basically, Bach is convinced of what he is doing: saving humanity, world peace anyway – and of course defeating the pandemic with the propaganda Winter Games.
When people talk about political appropriation of sport, one aspect is therefore usually criminally neglected: this IOC does not have to be appropriated. Bach rules the IOC the way Putin rules Russia and Xi Jinping rules China. Discourse does not exist in the IOC. And if Bach's sentences were to make any sense, it would be this: To talk about human rights, even to demand human rights, is "politicisation of sport", which must be rejected and fought.
This is the legacy of the German IOC President.
The IOC itself is a totalitarian system. More than ever. The IOC has never been as authoritarian as it is under Thomas Bach. Thomas Bach is the North Korean Great Leader, Putin, MBS and Xi Jinping all rolled into one. Even Juan Antonio Samaranch Sr. did not have such absolute power. No IOC president ever had such absolute power before. The IOC under Samaranch, as I studied it from 1991 onwards, including the coverage of more than 40 IOC sessions until today, was a democratic institution compared to today's IOC, with factions, with different opinions, with different interests.
Bach has basically also broken up the so-called pillars of the Olympic movement, or two of these three pillars, beyond recognition: ANOC and GAISF, i.e. the NOC and the Olympic IF. The final work is still ongoing, I will describe this in detail in a background piece these days. What remains is one pillar: the IOC.
Bach is the propaganda grandmaster. He is responsible for the most shameful Winter Olympics ever, the 2014 in Sochi, an irregular competition whose integrity the IOC apparently did not even want to guarantee – to this day, this scandal has not been dealt with as it should be. Now he is also responsible for the Genocide and Propaganda Games in Beijing. A German from the country that hosted the Nazi Olympics in Berlin and Garmisch-Partenkirchen and stands for the dirty appropriation of the Olympics by mass murderers, this German is the proud partner of the Chinese leadership. That says it all.
Bach knows he has no arguments. When I asked him about concentration camps for the Uyghurs (yes, I deliberately said concentration camps, not labour camps or re-education camps) at a press conference back in late 2019, he didn't contradict the term. That was highly interesting for me, who studied him for 30 years: Normally he is routine and sees his chance and would have pointed out to me that I, as a German, should be careful when using the term concentration camp. He did not. That was amazing. And that clearly told me how insecure he is, that he sees that he is in a losing position argumentatively.
60 of the current 101 IOC members became members under President Bach. I already proved this with figures in 2014, one year after he took office: No IOC president before him has ever changed the membership at such a pace and shaped it to his liking. Here, too, we can tick off some points that apply to authoritarian systems. Officially, of course, the commission headed by Princess Anne is responsible for nominating new members (with the exception of athletes, and in the case of those Bach also nominates in individual cases). Joke.
But what Bach does is only one side of the coin. The other side of the coin: IOC members (whether they are athletes' representatives, representatives of the NOK, representatives of the IF and thus ex officio members, or personal members) naturally also have a responsibility. And they are not living up to this responsibility. It is disgusting, indecent, embarrassing, unworthy, how the IOC members have paid homage to their Great Leader during the past sessions (especially in 2020 and 2021 during the virtual sessions). They even call him that, Great Leader, Leader etc… it is totalitarianism pure and simple.
The propaganda that Bach and his propaganda servants are spouting about humanity is also indecent, filthy and disgusting.
Bach leaves nothing to chance. Everything is planned. Everything follows a big script. This IOC is a disgrace. I say this as someone who, over many years, has always tried to understand the IOC from the inside, so to speak, who wanted to get close to and understand the system and the members.
Bach loves the notion that one (sport) must speak with one voice. And he brutally makes sure that it does. Anyone who opposes him on even the smallest of occasions has no future in the Olympic family.
Bach is a vain potentate who sees himself on a par with world leaders – elected presidents and heads of government. He has his advisers count how many important politicians he meets. Olympic money is used to infiltrate the so-called good governance industry and political institutions. and in the end, today in Beijing, he is actually be on a par with numerous heads of state and government again.
Most of them, however, do not come from democratic nations. He is on a par with Ursupators, Dictators and Murderers (MBS et. Al). That is how he is seen in the free world – and that is a good thing.
It is deserved.
BRAVE NEW EUROPE is a not-for-profit educational platform for economics, politics, and climate change that brings authors at the cutting edge of progressive thought together with activists and others with articles like this. If you would like to support our work and want to see more writing free of state or corporate media bias and free of charge, please donate here.