There are fewer than 100 days to COP26 but the gap between climate ambition and action is as wide as ever
Rebekah Diski leads on NEF's just transition projects within the Environment and Green Transition team, centring workers and communities in efforts to decarbonise the economy.
Cross-posted from New Economics Foundation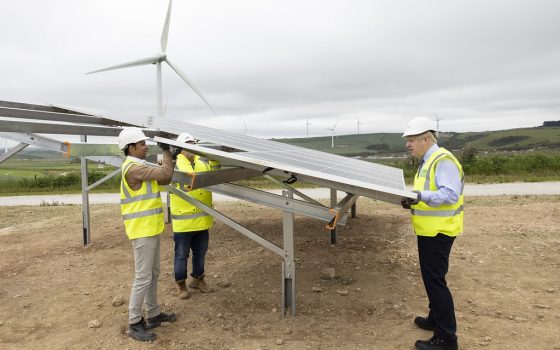 Image: Simon Dawson /​No 10 Downing Street (CC BY-NC-ND 2.0)
There are fewer than 100 days until the UK hosts COP26, arguably the most important global climate summit yet. The prime minister marked this point with a video cautioning us to ​"not pat ourselves on the back just yet", before patting himself on the back for the UK's climate achievements, including — erroneously — being the first country to legislate for net zero (Sweden did it first).
It's true that UK climate targets — notably to cut emissions by 78% compared to 1990 levels by 2035 and achieve net zero emissions by 2050 — are ambitious compared to most countries. But these targets are not fast enough, do not reflect the UK's fair share of historical emissions and also lock in dangerous and disruptive climate impacts. And even by its own standards, the government is not remotely on track. The government's own Committee on Climate Change is getting exasperated with the gulf between climate promises and action, saying last month that ​'time is running out for realistic climate commitments' and ​'the policy is just not there'.
Earlier this week Number 10's new One Step Greener campaign was widely mocked for advising the public to take ​'micro-steps' to avert climate change such as not rinsing your dishes before loading the dishwasher. Meanwhile, much of London and the South East was flooded after more than a month's worth of rain fell in a day. This followed a heatwave during which the Met Office issued its first ever extreme heat warning. In the last month, deadly floods have killed over 180 in Germany and Belgium and 63 in China, parts of Pakistan reached heat and humidity levels beyond what the human body can endure and the Amazon rainforest officially started releasing more greenhouse gases than it absorbs. In North America, heat domes led to hundreds of deaths, buckled roads and saw wildfires rip through forests, including many of those planted as carbon offsets, releasing the carbon they were supposed to sequester.
But despite ample evidence that the climate crisis is here, G20 leaders failed to agree on key climate commitments at their final meeting before COP26. This is familiar territory in climate negotiations: 12 years ago at COP15, governments promised $100bn every year to help poorer countries respond to climate change by 2020. This target has not been met and scientists argue that the costs of adequate climate finance to the Global South will be dwarfed by the costs of a 1.5˚C temperature rise. On this and other matters central to climate progress at the global level — debt relief, international financial reform, trade negotiations — our government has been impotent. And although the UK likes to see itself as a climate leader, other governments are unlikely to respond to lectures from a country that has no detailed plans to reach its own targets. Moreover, much of what the government has done belies its rhetoric on climate action. In the last year, it has refused to rule out a new coal mine, scrapped its flagship Green Homes Grant after only six months, committed £27 billion to road transport, accepted airport expansion, and is currently considering a new 800 million barrel oilfield in the North Sea.
The government says it understands the scale of the challenge, but it's clearly unwilling to make the decisions and allocate the funds necessary to address it. The Net Zero Strategy has reportedly been delayed because of Treasury opposition to the cost. But this is a false economy: an obsession with spending limits has enabled the fifth richest country in the world to cut international aid, delay action on our threadbare social care system, and axe £20 a week from the already paltry universal credit. As NEF and others have consistently argued, ​'too little deficit spending can cause irreversible social, economic and environmental damage'.
Instead, we should be investing in over a million green jobs in everything from retrofitting buildings, nature restoration and public transport to low-carbon social infrastructure like social care, health and education. We should be phasing out fossil fuels and supporting workers in carbon-intensive industries through a just transition, while ensuring our policies don't offshore poor labour and environmental practices to the Global South. These solutions could usher in a safer and fairer future and give the UK some legitimacy as it tries to achieve a meaningful international accord at COP26. Of course there is a cost, and it is crucial that it is not borne by those least able to pay. But we need to adapt to a world that is increasingly burning and flooding and, as even the conservative Office for Budget Responsibility has shown, the cost of not acting is far greater.
BRAVE NEW EUROPE is a not-for-profit educational platform for economics, politics, and climate change that brings authors at the cutting edge of progressive thought together with activists and others with articles like this. If you would like to support our work and want to see more writing free of state or corporate media bias and free of charge, please donate here.