The European Commission wants reliable supply chains for the materials that the EU needs to accelerate the switch to renewable energy sources and a green economy. The extraction of lithium, copper and other necessary commodities, on the other hand, is devastating nature and jeopardizing local communities. The administration in Brussels is set to lower the environmental bar, but the Western Balkans and other third countries may take an even heavier burden.
Balkan Green Energy News is being implemented by a civil society organization Center for Promotion of Sustainable Development
Cross-posted from Balkan Green Energy News
The European Union has high ambitions for the decarbonization of the energy sector so that it can become climate neutral by 2050. The transition to wind and solar power and other renewable sources requires massive amounts of materials, including copper, lithium and rare earth elements.
They would need to be mined and processed in unthinkable quantities but the existing technologies are far from green when it comes to the impact on the local community and nature. In addition, mining companies are still regularly using fossil fuels, which remain indispensable for the production of equipment and transportation.
The REPowerEU plan is increasing the pressure to ease environmental protection rules in the European Union so that it can eliminate the demand for Russian fossil fuels
The European Green Deal from 2020 already indicated the bar for environmental protection standards would be lowered for the supply of commodities even on EU territory. With the REPowerEU plan, initiated soon after Russia's invasion of Ukraine, the European Commission prioritized the switch to renewables as part of efforts to urgently cut the use of Russian fossil fuels.
The initiative implies lower environmental standards for mining the commodities, so that green electricity capacities could be installed together with energy storage that is necessary to balance the power supply. Namely, wind and solar farms depend on the weather for their output, so there can be too much or too little electricity in the grid from one minute to the next.
Existing technologies for mining and processing of the materials for the green transition are far from green when it comes to the impact on the local community and nature
Interconnections and stronger transmission capacities are another important element for balancing, adding to the demand for copper, cobalt and other metals. The transition to electric and hybrid vehicles is making lithium ion batteries a strategic technology, as other available solutions are still in their infancy.
EU needs raw materials from reliable third countries
The administration in Brussels is counting on the countries that it sees as reliable to provide the critical materials for the energy transition. Given that the environmental protection rules for mining are very strict in the EU, people and biodiversity in regions like the Western Balkans are an obvious choice to take a much heavier burden.
European Commissioner for Internal Market Thierry Breton has said the EU should ramp up mining, processing, refining and recycling, the Financial Times reported. "We prefer to import from third countries and close our eyes on the environmental and social impact there, let alone the carbon footprint of importing. But mining in Europe does not have to be a dirty business," he stated.
The European Commission is developing a raw materials legislation package to boost production, but with lower environmental standards and faster approvals. It narrows the space further for contesting controversial investments.
Eight out of Europe's 20 lithium projects are in Serbia
The article points to the delays at the Barroso lithium mining project in northeastern Portugal. The investor, Savannah Resources, is struggling to get around administrative barriers and the resistance among environmentalists and the local population.
The report highlighted the data obtained from S&P Global on mining projects throughout Europe. The map shows the biggest cluster is in the central part of the Balkan peninsula. It spans Serbia, Kosovo*, Albania, North Macedonia and the western part of Bulgaria.
Vulcan Energy is developing the technology to extract lithium from geothermal water
As for lithium, there are 20 projects in Europe, of which eight are in Serbia! Rio Tinto's Jadar endeavor, which is formally suspended, is marked as the only one in the feasibility stage. Raduša, Valjevo, Kosjerić, Rekovac, Vranje-South, Badanja and Bela Crkva are in the early stages of development. Of note, the last one, which has the same name as a town in the northeast of Serbia, is actually in the country's southwestern part.
The Lopare project (early stage) is in Bosnia and Herzegovina.
The areas under lithium exploration and those envisaged for exploration mostly have very fertile land and the population depends on agriculture. There are a dozen projects in the region for the production of batteries for different uses, mostly in Romania, Turkey and Bulgaria, which could mean investors are counting on lithium from the Balkans.
Contemporary Amperex Technology Ltd. (CATL) from China has just landed a deal in Hungary for the construction of a battery plant in Debrecen. The investment is valued at EUR 7.34 billion.
ElevenEs said last year that it would build a battery plant in Subotica in Serbia's north. Asked about whether the company intends to source lithium materials from Serbia, founder and CEO Nemanja Mikać told Balkan Green Energy News that the plan is to import the commodities. ElevenEs requires lithium iron phosphate for cathodes, he stressed. Mikać noted that Rio Tinto's project is on hold in Serbia.
One late-stage lithium mining endeavor, Koralpa, is in Austria. Three are three projects in Germany: Vulcan (feasibility), Zinnwald (feasibility), and a converter processing facility project on the border with Poland (late stage). But Vulcan Energy is actually developing the technology to extract lithium from geothermal water, without mining.
The list seems to be incomplete, as there is a lithium mining project in the Czech Republic, for instance, and geothermal extraction efforts in Italy and the United Kingdom.
Savannah Resources is struggling to get around administrative barriers for its Barroso lithium mining project in Portugal
There are two places in Ireland on the map: Avalonia and Leinster, both said to be in a later stage of development. Portugal has two projects in addition to the Mina do Barroso – Alvarroes, marked as operating, and Sepeda, late stage. In Spain, San José is in the feasibility stage, and Alberta 2 is in the late stage of development, according to the report.
In Scandinavia, there is one early-stage project in Sweden – Bergby. Tammela in Finland is in its early stage, Keliber reached the feasibility phase and Rapasaari is in the late stage of development.
Balkans targeted for copper sourcing
Copper projects are also heavily concentrated in Serbia, with 15 points on the map in the Mountain Stara planina area and eight in the rest of the small country in the continental part of Southeastern Europe. There are 43 projects identified in Turkey, 11 in Bulgaria, nine in both Cyprus and Romania and two in Bosnia and Herzegovina.
In the region tracked by Balkan Green Energy News, there are ten potential nickel mining sites: three in both Albania and Turkey, and one each in Serbia, North Macedonia, Kosovo* and Greece.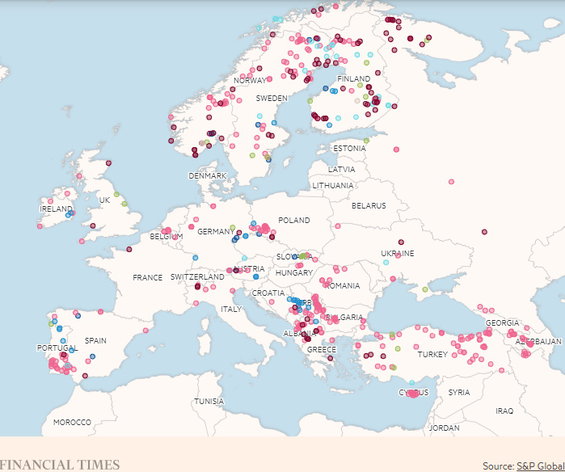 Mining and processing of lithium, copper and nickel can be devastating for the population's health, agriculture, water sources and biodiversity. The construction of such facilities implies massive relocation, while there is also a severe impact on the surrounding areas.
In South America and Australia, lithium is usually in desert areas with few inhabitants. European and government officials are repeating the mantra of sustainable development for many years. It is not sustainable development if it means endangering food production, impoverishing people and not taking into account their right to clean water and sanitation.
Novaković: Narrative is justifying annihilation
The Association of Environmental Organizations of Serbia (SEOS), a movement against Rio Tinto's Jadar lithium project and the exploration activities that are taking place all over the country, slammed the Ministry of Mining and Energy for promoting lithium and reacted to FT's report.
"Is there any country more convenient to snatch away its resources for little money and exploit cheap labor than Serbia, which doesn't have any plan and strategy for development and the protection of its natural wealth and its citizens' interests and health?" the group asked.
Activist Bojana Novaković recently said the media should challenge the narrative that is justifying the "annihilation of sacred and fertile land in the name of a green transition." Her Marš sa Drine initiative is part of SEOS.
We're asking journalists worldwide to challenge lawmakers about narratives that justify annihilation of sacred & fertile land in the name of a "green" transition. This effects indigenous communities from Chile/Australia/USA to generational farmers in Serbia/Portugal/Spain/Germany pic.twitter.com/YT03c2CEmu

— Bojana Novakovic (@bojnovak) August 13, 2022
"Ask them why they're not sacrificing plastic. Ask them why they're not sacrificing wealth. Ask them why they're not sacrificing the military industrial complex. Ask them why they're not sacrificing all the minerals and the resources that go into these profit-making waste machines that abolish clean water, air, food, soil," Novaković pointed out.
Top government officials have relaunched the campaign for lithium ore mining and processing in Serbia, particularly in favor of the Jadar project. "It is a fact that the growth in global demand for lithium shows this mineral commodity represents the basis for green, sustainable growth and that without lithium there is no economic development, no green agenda, no new technologies, no stable and secure energy system," the Ministry of Mining and Energy said.
Support us and become part of a media that takes responsibility for society
BRAVE NEW EUROPE is a not-for-profit educational platform for economics, politics, and climate change that brings authors at the cutting edge of progressive thought together with activists and others with articles like this. If you would like to support our work and want to see more writing free of state or corporate media bias and free of charge. To maintain the impetus and impartiality we need fresh funds every month. Three hundred donors, giving £5 or 5 euros a month would bring us close to £1,500 monthly, which is enough to keep us ticking over.