It's an all too familiar story: international corporations using the EU Commission to force their interests on democratically elected municipal and state governments, against the interests of EU citizens.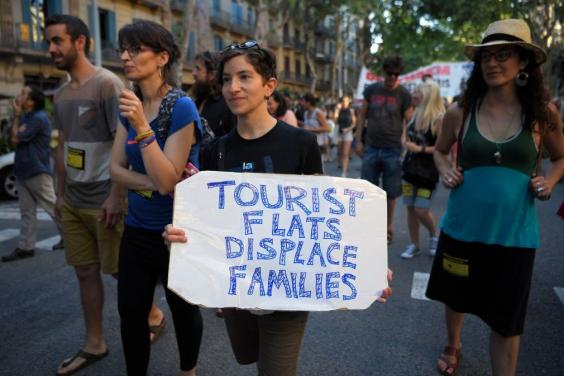 Wikimedia Commons
AirBnB is rapidly falling out of favour at the municipal level in the EU. One city after the other is adopting rules to restrict the company's operations in an attempt to ensure that locals have access to affordable housing. They are responding to the widespread commercial rental effected by AirBnB and similar platforms. But AirBnB is fighting back, with a strategy it has developed over the past three years: to persuade EU institutions to move in and overrule the municipalities. For housing activists and progressive city councillors, this move is a new challenge. If they are to avoid seeing the fruits of their efforts destroyed with the stroke of a pan by EU politicians in Brussels, they need to develop a trans-European strategy unifying national efforts.
Perhaps there was a time when AirBnB could have been considered a pleasant alternative to hotels. Someone would offer a spare room for the night, in return for a modest fee; a sense of authenticity and living with the locals would be part of the package. But the increase in tourism and a rapid expansion of "home sharing" has made short-term rental accommodation platforms an entirely different animal. This has triggered action across Europe. In Barcelona, Paris, Amsterdam, Berlin and many other cities, AirBnB and similar companies are now faced with legitimate restrictions. Attempts to rein in the platforms are spreading like a bushfire throughout European cities. In past weeks, Frankfurt and La Palma have joined the fray, and plans are also afoot in Madrid.
Like any other commercial colossus, AirBnB is fighting back. And the counter-offensive is happening behind closed doors, often in opaque proceedings within EU institutions, as a new report from Corporate Europe Observatory reveals.
AirBnB started lobbying in Brussels at the beginning of 2015 and from day one its agenda was to seek a way to use the power of the EU institutions to fight back against democratically initiated restrictions imposed by city governments. In Brussels, the company found a receptive audience. For years past, EU institutions have made a concerted effort to build the "digital single market" and support the "collaborative economy'". Under those headings the European Commission has been seeking opportunities to remove democratically imposed obstacles for companies such as AirBnB.
From the beginning, AirBnB gained privileged access to the highest EU echelons and has had many meetings with Commissioners and their cabinets in its efforts to subvert local laws. They have a shared objective: to establish the boundaries of what cities can do within existing EU legislation, using the most potent part of EU law: single market rules.
With its allies in Brussels, the company is seeking two objectives: rules that side with their business model against the cities, and a mechanism to have them enforced.
The first goal is already in sight. In a communique dated June 2016, after a long period of intense lobbying by AirBnB and others, the Commission unearthed EU laws from a time long before AirBnB existed – the e-Commerce Directive (2000) and the Services Directive (2007). These were reframed to produce legal guidelines. The result of this new interpretation could undermine the legal frameworks adopted by cities such as Berlin and Barcelona.
This development has allowed platform lobbyists to take the battle to another level. In September 2016, the European Holiday Home Association filed a formal complaint with the Commission against Barcelona, Berlin, Paris and Brussels to deal with what it called "de facto bans". Since then, the Commission has considered whether to take the complaint further and initiate formal discussions with member states to bring them into line with what it believes is the "correct" interpretation of EU law. Should that not provide the results the Commission desires, the matter could be referred to the European Court of Justice, which would then have the final word.
In other words, AirBnB and its allies are going for the nuclear option: an intervention that will sweep away the defensive measures by municipalities to protect affordable housing for their citizens. The outcome is difficult to predict. The Commission, for its part, has kept all details concerning the matter out of the public domain and will continue to do so. What is clear, though, is that if attempts to safeguard affordable housing from "the AirBnB effect" are to be effective, local struggles need to be flanked by a set of EU-wide guidelines and laws.
The instinctive response would be to suggest a new EU law that would hammer out once and for all rights and obligations pertaining to lodging platforms operating in European cities. Looking at the political environment in EU institutions that strategy appears doomed. When the European Parliament adopted a resolution on the "collaborative economy" in June 2017, the wording on rental platforms was astonishing. In it, the European Parliament "condemns…the regulations being imposed by some public authorities, which seek to restrict the supply of tourist accommodation via the collaborative economy." The word "condemns" is usually reserved for occasions when parliament speaks out against abominations such as "gay cure therapy" or a chemical weapons attack. That makes it difficult to imagine a positive outcome for a new legislative initiative, particularly when it is coupled with the singlemindedness of the Commission in its pursuit of single market discipline. A more plausible strategy, perhaps, would be for the cities to insist, when it comes to regulating the platforms, that the issue of affordable housing is best dealt with at the municipal level, and that EU institutions should keep their noses out of it.
The report "UnFairbnb" can be read here