Forget the EU's Green Deal. Call it climate hypocrisy instead. One day the European Parliament declares a climate emergency, now they vote in favour of fracking.
Again it was EU hegemon Germany behind this vote. Gas plays a crucial role in Germany's strategy to use hydrogen fuel cells as an energy source for cars in the future. This is among the reasons why NordStream 2 is so vitally important to Germany.
Damien Thomson is a climate policy advisor for GUE/NGL (European United Left/Nordic Green Left) in the European Parliament, and contributing editor of Irish Broad Left
Cross-posted from the Irish Broad Left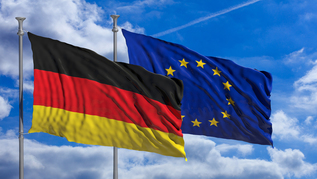 Quelle: Rawf8 – stock.adobe.com
Just as always, they think we are not watching.
Just as always, their voting record shows where they stand.
On Thursday, 13 February, an extremely important vote took place in the European Parliament – an objection to the EU's publicly funded fossil fuel infrastructure projects  – and I needn't name the Irish politicians that sided with the fossil fuel industry. You know this by now. It's dead obvious. It's actually boring at this stage.
The objection to public subsidies for fossil fuels, brought forward by Irish MEPs Clare Daly and Mick Wallace, the Greens group and other left MEPs, called for the European Commission to submit a new list of energy projects – one that avoids the construction of any new fossil fuel infrastructure and is fully compatible with the Paris Agreement. It's really not a big ask.
The Projects of Common Interest (PCI) list on the EU's priority energy infrastructure projects is part of a delegated act, which means the European Parliament can object to it within a short period and the Commission is obliged to bring forward a new list. This is our window of opportunity to demand some accountability on climate.
Any new gas infrastructure is designed to last at least 40 to 50 years and in some cases even longer, the objection notes. The Commission itself has even noted that the fourth list of projects of common interest has not been subject to a sustainability or climate assessment.
In November, the European Parliament declared a climate and environmental emergency, with the liberals and right-wingers jumping on the bandwagon. Now is the time to see what they mean by this emergency declaration.
Will these same MEPs support publicly funded, brand-spanking new fossil fuel infrastructure in the EU?
This is quite a litmus test, if you ask me.
Out of the 641 MEPs who voted, only 169 supported the objection.
What is the PCI list?
In October 2019, the European Commission adopted the fourth PCI list for implementing cross-border energy infrastructure in the EU. These projects benefit from simplified permitting and a right to draw down EU public funds (the Connecting Europe Facility). The 32 gas projects alone in this list could make use of €29 billion. This subsidy to the fossil fuel industry comes at the same time the EU is cutting social funds and desperately looking to finance the 'European Green Deal'.
A recent report by consulting firm Artelys concludes that the existing EU gas infrastructure is sufficiently capable of meeting a variety of future gas demand scenarios for the EU, even in the event of extreme supply disruption. So, even if you are one of those people that buys into the whole "gas is a clean fuel" thing, this is a major hand-out to the fossil fuel industry to guarantee their fossil fuel future in Europe.
Shannon LNG Terminal included
All of the energy projects in the PCI list are outlined in this annex. It most infamously includes the Shannon LNG Terminal and connecting pipelines. Shannon LNG is a disaster from whatever way you look at it.
It would be a disaster for the biodiversity-rich natural environment of the Shannon estuary.
It is a geopolitical capitulation from the EU towards US President Donald Trump and his plan to make Europe a key market for US fracked gas. Shannon is already an American military zone; now it's on its way to becoming the portal for the USA's filthy fracked gas.
Shannon LNG would lock gas into the future of Ireland's energy grid, the secret behind the sudden surge of high energy-consuming data centres in the state.
It is utterly ludicrous that the Shannon LNG terminal is on an EU list of projects of common interest in the first place, which is supposed to be for EU cross-border infrastructure.
And let's not forget, the PCI list also includes an interconnector between EU states and Israel, a sponsorship of apartheid (EURASIA interconnector). It also has the Celtic Interconnector, linking non-nuclear Ireland to the French electricity grid, with around 72 per cent of French electricity being nuclear-powered.
Putting aside the whole underpinning principle of the EU's Energy Union (liberalising an EU-wide energy market for more profits for the big energy companies), the fourth PCI list is a big no-no, and this was the time to object.
The MEPs who voted against this opportune objection can be found listed at this link – the European Parliament vote record 12th February (See B9-0098/2020 – Resolution p65).
Of course, when questioned they'll respond with their creative excuses, their technical arguments, their red herrings. But the question is simple, and there is no way to dress it up any differently.
The EU's little energy secret is gas
Gas is deeply entrenched in the EU's energy plans for the future. The European Green Deal is very gas-friendly, so much so that it refers to the need to ensure "clean energy", not renewable (page 6) – code for investments in gas and nuclear. Fossil gas neatly fits into the EU's own definitions of clean energy because it is low in CO2 but high in CH4 (methane, which has a much higher impact on global warming than carbon dioxide). This is no surprise, given that the gas industry has been spending hundreds of millions lobbying the EU in recent years.
Indeed, the only reason we keep talking about "climate neutrality" all the time is because it is a term that ensures that there is a future for gas. Otherwise, we would just be talking about phasing out all fossil fuels.
The EU's soon to be approved Taxonomy Regulation leaves the door wide open for fossil gas to – bizarrely – be labelled as a green investment. The European Investment Bank's (EIB) new energy lending policy, which aims to end most fossil fuel programmes by the end of 2021, was warmly welcomed, but what was overlooked was the fact that it still allows investments in "low-carbon gases" without clear and concrete environmental safeguards – i.e. fossil gas.
Fine Gael MEP Sean Kelly, once the LNG spokesperson for the right-wing EPP group, justified his failure to support the PCI list objection by saying "the investments will of course create jobs and growth in the regions concerned". In his statement, he goes on to reaffirm his commitment to a future of fossil gas, stressing that "gas will continue to play a role in sustaining the transition".
If it's not hot air, it must be some other gas.
Maria Walsh MEP (Fine Gael), however, broke with her party's whip and decided to support the objection, saying that fracking is "something I cannot condone". She is one of only three MEPs in the right-wing EPP political group who supported the objection, with the rest of her 182 member-strong group refusing to support it.
Despite her breaking the whip today, Ms Walsh had tended to follow the EPP whip on climate issues, notably voting against numerous amendments to boost the EU's 2030 emissions reduction targets and deleting reference to the gas loophole in relation to the EIB's energy lending policy.
BRAVE NEW EUROPE brings authors at the cutting edge of progressive thought together with activists and others with articles like this. If you would like to support our work and want to see more writing free of state or corporate media bias and free of charge, please donate here.