With the EU deadlocked over migrant reception, the German Seebrücke movement offers a model for bypassing it.
Helge Schwiertz and Felix Keß are graduate students at the University of Osnabrück,
Cross-posted from Open Democracy
This weekend, thousands of people marched in Berlin, and several other German cities including Nuremberg and Cologne, to protest a bill, proposed by the interior minister, Horst Seehofer, that would toughen the country's asylum and deportation laws and criminalise pro-migrant activism.
The protest was not the first of its kind. Over the last few months, there have been several coordinated demonstrations over migrant policy across Germany. Between July and September last year, tens of thousands of people dressed in orange, many wearing life jackets, took to the streets to protest a growing clampdown on migrants attempting to cross the Mediterranean and the civil society organisations aiding them.
The demonstrations have been led by a new movement, called Seebrücke (German for 'pier', literally 'sea-bridge'), which formed in response to the rising number of migrant deaths in the Mediterranean and the criminalisation of non-governmental sea rescue operations. Among the movements demands are for European governments to resume rescue missions, and offer safe and legal escape routes so refugees can exercise their right to seek asylum. The movement has called on municipal authorities to declare themselves a "safe harbour" for refugees in a show of solidarity.
The Seebrücke movement comes at a time when European governments are reneging on their previous commitments to sea rescue operations. The Italian sea rescue operation Mare Nostrum was launched in October 2013 after at least 360 migrants died when a boat travelling from Libya sunk off the coast of the Italian island of Lampedusa. However, only one year later, this operation was replaced by the European Union-led operation Triton – whose remit was focused on border control, rather than sea rescue. This operation, led by the European border agency Frontex, was supplemented by the military operation Sophia in 2015, which aims to combat smuggling networks. The prioritisation of anti-smuggling operations over search and rescue led to an increase in the mortality rate in Mediterranean, according to the Centre for Criminology at the University of Oxford.
In response to this dereliction of responsibility, numerous non-governmental initiatives of sea rescue have been launched. Organisations such as Médecins Sans Frontières, SOS Mediterranée and Sea-Watch have built a fleet of "border humanitarians", operating ships to assist individuals in distress at sea.
The current European border regime in the Mediterranean is characterised by a nexus of militarised migration control and humanitarian rescue operations. The relationship between these two rationales has shifted dramatically in line with the political situation. In mid-2018, conflicts about sea rescue and refugee reception in the EU escalated to an unexpected degree, with the newly elected right-wing Italian government at the forefront of anti-migrant politics.
Both Operation Sophia, the EU's anti-smuggling military operation, and NGO rescue ships like the Aquarius and Lifeline, have been impeded by Italian authorities refusing to allow migrants to disembark. Although one can speak of a rise of nationalism all over Europe, with other countries pushing anti-migrant politics and denying their responsibility of refugee reception as well, Italy holds a crucial role as the main country of entry to the EU through the central Mediterranean route.
Control and rescue in the Mediterranean Sea
The impasse over Operation Sophia sheds light on how the EU's policies are falling short. In March, Sophia was extended for a year, however, it is now no longer allowed to deploy ships making it a naval operation without any boats. Far from being a sustainable solution, Sophia and Triton – despite their de-facto involvement in sea rescue – itself are part of the problem. Both operations were designed to combat smugglers, but the effectiveness of this strategy is questionable.
For migrants, however, the military operation has made Mediterranean crossing even more dangerous – a fact EU officials are quite aware of. It led to riskier routes for migrants trying to circumvent the militarised border and, in cooperation with Libyan forces, to serious human rights violations at sea and in detention centres on land. Meanwhile, the EU's restrictive visa regulations and border regime, which in the first place makes it necessary for migrants to take such dangerous routes, is rarely challenged.
Nevertheless, in effect, Operation Sophia also worked as a rescue mission. While officially assigned to combat "human smuggling", about 49,000 people have been rescued. In the first years of the operation, all of them were brought ashore in Italy. But since mid-2018, Operation Sophia has been hobbled by Italian authorities closing their ports to rescue ships. Germany withdrew its involvement in January, accusing the Italian commander responsible for the mission of intentionally sending ships to areas where there are no migrant vessels. As a result, only 106 refugees have been rescued since July. At the same time, other European governments have mostly refrained from offering alternatives.
With the Italian government making it increasingly difficult for NGO rescue vessels to operate while also neutering Operation Sophia, it's possible that there may be no search and rescue operations in the Mediterranean. Ska Keller, the co-president of the European Parliament's Green bloc condemned the move, saying: "It is an intolerable shame that thousands of refugees are dying off the coasts of Europe. The EU member states are complicit in their deaths if they now completely stop sea rescue."
From the sea to the cities
By effectively criminalising NGO vessels, the Italian government has politicised what was previously mostly regarded as a humanitarian act, which, in turn, has mobilised individuals in many European cities. In Italy, Naples and Palermo opposed the restrictive turn of the Italian government, declaring that their harbours will remain open and that they are welcoming migrants. Barcelona has similarly described itself as a safe harbour for migrants and a city of refuge.
In Germany, the protest movement Seebrücke emerged as a result of this new chapter of European anti-migrant politics. It was formed by a group of activists in response to Italy and Malta refusing to allow the rescue ship Lifeline to dock in their ports, with 234 rescued people on board. Lifeline was left stranded at sea for six days before it was finally allowed to dock in Malta. Several countries including France, Ireland, Italy, Portugal, Luxembourg, Norway, the Netherlands and Belgium had declared their willingness to share the responsibility for the migrants in this particular case.
Seebrücke was successful in mobilising people that were not involved in political protest before. The movement's humanitarian demand to rescue people in distress at sea enabled a broad participation from various backgrounds. While the decentralised, 'open-source' campaign lowered the bar for participation: anyone who wants to get involved can use the orange Seebrücke logo and the campaign materials, which are available online as part of an "ActionKit". Right from the beginning, people were encouraged to initiate their own actions in their cities.
As of now, 47 german municipalities have announced their support for Seebrücke's demands. Since municipalities have only very limited power in immigration policies, it is mostly a symbolic gesture. But local groups of the Seebrücke movement can, however, pressure municipal authorities to accept more migrants than they would be required to according to the German distribution quota.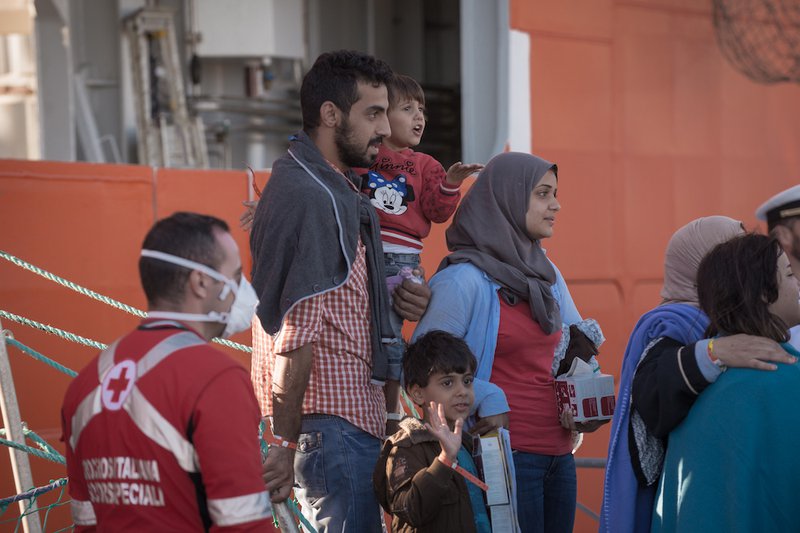 Translocal networks of solidarity
The Seebrücke movement developed surprisingly fast but should not be seen in isolation. It is one of a number of transnational movements or initiatives fighting for safe harbours and cities of refuge in Europe and beyond. These initiatives comprise grassroots movements like the solidarity city network, but also top-down approaches such as the proposal by German politician and academic Gesine Schwan to introduce an EU funding tool for municipalities that welcome refugees.
A common feature of initiatives for refugee reception is their localised focus. They express their demands as part of a local community by saying: 'Our city supports the reception of refugees'. The top-down approaches also aim to foster decentralised structures to empower local actors to receive and support refugees.
These local initiatives offer a strategy to bypass national and supranational migration policies. By generating approval for safe escape routes locally, the initiatives try to exert pressure on federal and EU-policy. For these geographically dispersed initiatives it is crucial to invest in translocal networking to attract supra-regional media coverage and visibility among a broader public. Despite their efforts and successes on the local level, many initiatives have so far failed to introduce change, not least because they are regularly ignored by governmental authorities on the national level.
Initiatives for safe escape routes highlight the tension between international refugee and human rights on the one hand and national borders on the other. This is where the asylum paradox lies: refugees are entitled to protection rights, but due to a lack of legal entry options, they are often forced to cross borders illegally on dangerous routes in order to actually gain access to asylum. This means that they have to break the law in order to obtain their rights.
The growing network of local pro-migrant movements are demonstrating that the reception of migrants is a question of humanity and justice – not a threat or burden. They work towards resolving the asylum paradox, insofar as refugees are not only formally granted protection rights, but also supported to actually gain access to these rights. Beyond mere humanitarian aid they enact a disobedient and inclusive solidarity with migrant struggles for freedom of movement.