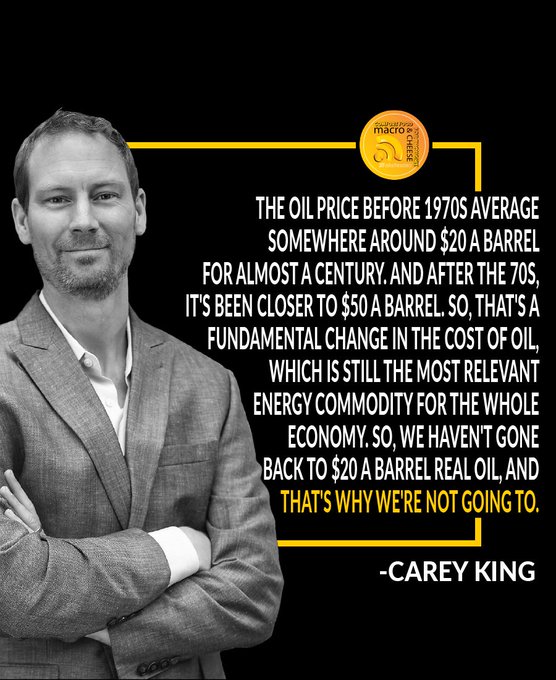 This episode of Macro N Cheese introduces us to Dr. Carey King of the University of Texas at Austin where he performs research and modeling of energy systems interaction with the economy past, present and future. He has published a book, The Economic Superorganism describing his research extrapolating the results into policy suggestions.
Steve opens the episode describing the term "real resources" and asks Dr. King to explain the approach he took in his book. The explanation reaches back into history to the 14th century all the way to the present. Through that time span, he discovered that energy costs can reliably correlate to GDP (gross domestic product). This formed the basis for his research work and, subsequently, his book.
Much of the discussion, then, centered around two significant points; the efficiency of energy consumption or output in terms of cost and an examination of the first point in terms of the book's title that connects economics to an organism.
The input or output of energy discussion details how a supply chain functions and how energy is consumed at every link in the chain. The result shows that actual efficiency of production has diminished since the onset of the 1970's.
Examining energy and the economy as an organism requires a view that details the multiple connections that any organism has to survive. Steve draws the parallel to a "system" of any sort, and current events. Dr. King builds on Steve's points with further emphasis on the choices made and their impact on current economic issues.
Other topics discussed were Dr. King's next steps in adding environmental variables into his models that could possibly expose some options for coping with climate change. Also talked about was the post production variable of energy costs of handling production waste which builds further on the environmental variables.
Lastly, both Dr. King and Steve exchanged views on the expansion of China's economy, macroeconomic issues, and even how Dr. King's work intersects with evolution itself.
Dr. Carey W. King is Assistant Director of the Energy Institute at University of Texas at Austin, where he has been a Research Scientist since 2016. He is author of The Economic Superorganism: Beyond the Competing Narratives on Energy, Growth, and Policy (2021).
Find his work at careyking.com