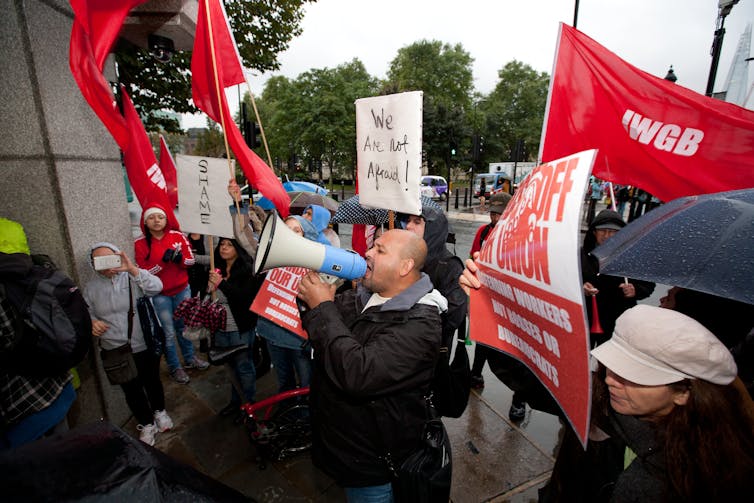 Steven Parfitt, Loughborough University
Many people in the UK interpret "take back control" as "close the borders". But there are other ways for people to restore their communities and standard of living without trying to keep out the immigrants. Two small unions, the Independent Workers of Great Britain (IWGB) and United Voices of the World (UVW), show us how.
The IWGB, formed in 2012, and the UVW, formed in 2014, organise the most vulnerable of London's immigrant workers: low paid, outsourced, often employed as so-called "independent contractors". They include cleaners, carers, couriers, bar staff and security guards. These men and women, working alongside their British-born colleagues, are the very people supposedly swamping the country and driving down wages.
Yet through these two unions they have taken on powerful employers, from global giants like Uber and Deliveroo to outsourcing companies at the Royal Opera House, the London School of Economics, and other cultural meccas. And they have often won. I spoke to the leaders of IWGB and UVW to and found out how – through self-reliance, community building and collective action – they have taken back control.
Self reliance
The prevailing emotion among low-paid workers is fear: fear of management and fear of getting the sack. They have little experience with unions, and no control over their jobs.
IWGB and UVW organisers must first convince workers that they have the power to act and that they can cause change. They try to avoid what the UVW's general secretary, Petros Elia, calls a "doctor-patient relationship", where workers wait for a quick consult with the organiser, who then cures their ills.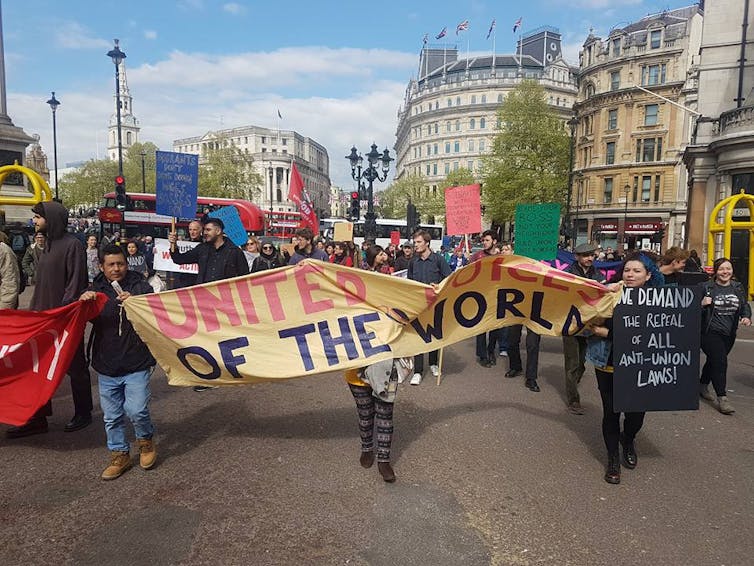 They preach instead the gospel of self-reliance, or at least a version of it. The IWGB's Ecuadorian-born president, Henry Chango Lopez, puts it simply: "We let the workers run their own affairs." New members compile their own demands and plan their own campaign, while organisers provide guidance and head office provides legal support. Workers are encouraged to trust their own abilities, and take control of their own campaigns.
Strength in numbers
But they do not do this alone. The IWGB and UVW place more stress on strikes and other kinds of collective action than most other unions. This is partly because the employers they encounter – outsourcing companies, "platforms" such as Uber and Deliveroo, and other hirers of low-cost labour – are even less likely than others to grant demands such as the London living wage without a fight.
Their campaigns are noisier and more raucous than the average picket line. Strikes by IWGB cleaners at the University of London, for example, were set to banging drums. UVW cleaners at 100 Wood St, home to investment banks Goldman Sachs and JP Morgan Chase, staged loud protests, organised flash mobs and occupied buildings for 61 days during the longest strike in the history of the City of London. At these times, Chango Lopez says, "invisible workers become visible" – not to mention audible.
Isolated individuals change nothing – but even the most vulnerable people, some of whom speak few words of English, can change a great deal if they come together. Chango Lopez remembers how cleaners at the University of London – outsourced, marginalised and on minimum wage – used to suffer harassment and feared losing their jobs and being unable to pay their bills.
After eight years of sustained protests, strikes and campaigns they have transformed their situation, won the London living wage and will soon be brought back in-house. British workers of all kinds should heed that lesson, as strikes fall to their lowest point in more than 100 years.
Building community
These strikes and campaigns all rest on the wider community of members. The IWGB and UVW both aim, as Elia puts it, "to build as many links of solidarity as possible between members, and between workplaces". When one branch decides to take action, head office encourages the other branches to lend their support by joining their protest and writing letters and emails to the employer in question. Head office becomes the hub of a community in which each branch knows that the rest have their back.
Activists from both unions try to make their office a place where first-time visitors come back twice. They encourage new recruits to meet members seasoned by strikes and campaigns who can pass on their experience and the conviction that fighting and winning is possible. Formal meetings double as social events, where everyone can relax and get to know each other over a drink and to the sound of music. Activists at the UVW offices rate themselves as highly on the dancefloor as on the picket line.
They have built these communities despite the many linguistic and cultural cleavages among their membership. Members come from all over the world – including Africa, the Caribbean, South Asia and the UK. The majority of UVW members – and a large minority of IWGB members – hail from Latin America. Spanish is spoken more often than English at the UVW head office, and their long, sprawling meetings take place in Spanish and Portuguese as well as English. Both unions run English language classes for non-native speakers, so they can work more closely with their colleagues and better understand what employers tell them.
Some people fret that immigrants won't assimilate. But they can rest assured that the UVW and IWGB do more to integrate their foreign-born members than the government, which has slashed funds for English teaching for new migrants. And they have a thing or two to learn from this varied collection of British and foreign-born workers, who have overcome their vulnerabilities to better their pay and working conditions.
Forget closing the borders, or maintaining the "hostile environment" against migrants. Working people shouldn't rely on Brexit – or the European Union – to protect their jobs, communities and lives. The self-reliance, collective action and community spirit practised by the Independent Workers of Great Britain and United Voices of the World are a much better way to take back control.
Steven Parfitt, University Teacher in History, Loughborough University
This article was originally published on The Conversation. Read the original article.