By David Shirreff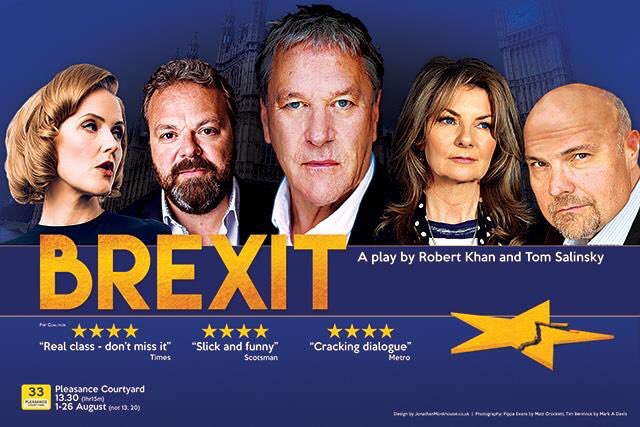 If you are in Edinburgh sometime this August, try to see this play. Whether you're a Brexiteer or Remainer it will make you think. Apart from being very entertaining it manages to distil the Brexit problem down to an algebraic formula – to which there must be a solution, must there not?
It is 2022 and Britain – all-too-believably – is still negotiating its exit from the EU. A transition agreement is in place which keeps the country's hands tied. Adam Masters, who has finally succeeded Theresa May as prime minister, tries to keep the peace by appointing a hard-line Brexiteer, Simon Cavendish, as trade minister and a closet Remainer, Diana Purdy, as Brexit minister.
That is the uncomfortable starting point of a new political satire running at the Edinburgh Fringe Festival from August 1st to 26th. The fictitious characters make Britain's horrible position seem even more intractable. Even without clowns like Boris Johnson and Nigel Farage we are no nearer to a solution. The Conservative party is as divided as ever.
Adam Masters's campaign manager, Paul Connell, a hard-nosed American, sees Brexit as Britain's biggest challenge since the second world war. Connell is no Sir Humphrey. He rages menacingly, as Masters dithers and makes wild promises to each of his warring ministers in turn. But somehow the American cannot bring himself to quit.
There is much talk of the chess term "Zugzwang" – pressure to make a move – which Masters deftly avoids: until, that is, he rashly promises Purdy he will adopt her plan of "perpetual transition". Cavendish enters unexpectedly, finds his dossier in the bin, and tweets his resignation. Much hilarity as a fumbling Purdy accidentally "likes" and "retweets" her rival's vicious tweet, before her phone too ends up in the bin.
The knives are out for Masters. Forty-six letters have been sent to the Conservative party's powerful 1922 Committee. It needs only two more to trigger a vote of no confidence in the PM. Guess who have their letters written and sealed, ready for posting?
Masters consoles himself by visiting Brussels where he flirts with siren EU negotiator Helena Brandt. She tells him that unfortunately Britain made one huge tactical error – triggering Article 50, and robbing itself of bargaining power: "You set your own time-bomb ticking."
Ouch. This is all so near the knuckle. As one person remarked after the show: "It's very funny, but I didn't enjoy it." This play fulfils its role as satire – entertaining and leaving uncomfortable. It strips away the current cast of characters and reduces Britain's dilemma to an algebraic formula: Hacker/Masters as prime minister, Brexiteers versus Remainers in- and outside the cabinet, an American playing devil's advocate, and the EU as Paradise Lost, perhaps.
In despair Masters asks the fair Helena whether the EU might possibly consider letting Britain back in? She thinks it probably would. But there would be no continuation of the budget rebate won by Margaret Thatcher. And there would be one other small condition: that Britain agrees to join the single currency. Masters sees immediately what that would require: another bloody referendum.
Brexit is playing at the Pleasance Courtyard, Edinburgh, on most days between August 1st and 26th, at 13.30. For more information see here. Tickets can be bought here
.