Alex Foti on May Days past and present.
Alex Foti is a Milanese editor and activist, theorist on precarity, and author of General Theory of the Precariat (Amsterdam, 2017).
Edited by BRAVE NEW EUROPE
---
---
This series of articles concerning the Gig Economy in the EU was made possible thanks to the generous support of the Lipman-Miliband Trust 
---
---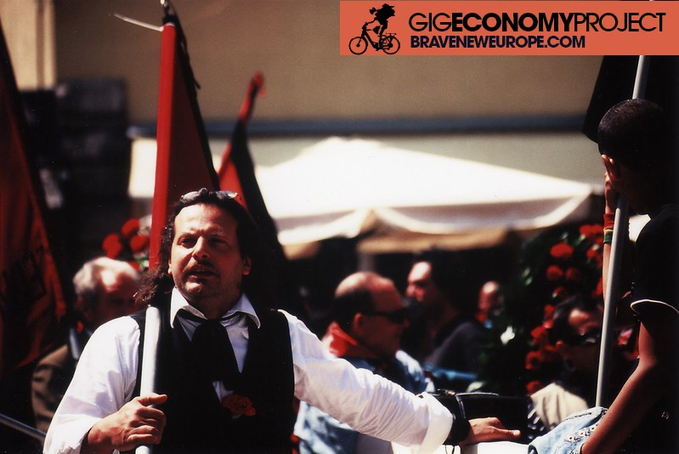 In the half century that constitutes my life, the saddest May 1 up to this one was in 1986 when in Italy, where I live, the three major unions suspended the traditionally solemn, yet lively demonstration, instead celebrating the 100th anniversary of this event in the elegant La Scala Opera House in Milan. The principal speaker was Pope John Paul, union representatives having come hear his address on labour. By coincidence I was interviewed by TV news as a "passer-by" in Milan's Cathedral Square and asked whether it was right to celebrate the 100th anniversary of May 1 in this manner. I explained to the journalist that it was an insult to the martyrs of Haymarket and distracted from the return of exploitation under the guise of flexibility.
I later worked for two years as a tenant unionist and was expelled from the Catholic Labour Union (it's complex, don't ask – I've been an atheist since adolescence) because in 1992 I was among those throwing vegetables at the union leadership who had sold us out to the Maastricht Treaty (Financial Times put us on the front page showing middle fingers and the headline "Violence mars Italy's strike").
These two experiences were crucial in devolving the May Day Parade with the Italian flexwork syndicate "ChainWorkers" in the 2000s for the precariat and by the precariat, which spread throughout Europe (Spain, Germany, Scandinavia especially) in 2005-2010. In Milan, the large-scale riots of May Day 2015 simultaneously with the inauguration of Expo Milano, marked the end of a phase of self-organisation and mobilisation and an opening of a new one, more centred on gig labour, women's employment, and logistics workers, as well as demands for a new welfare system based on the reality of precarity, which became particularly important in the Covid crisis that is currently putting a quarter of the labour force out of work and means of subsistence.
So May Day 2020 Italy was subdued in comparison to the United States, another country egregiously affected by the pandemic, where a general strike launched by Amazon organizer Christian Smalls against Jeff Bezos, his supermarket chain Whole Foods, the vampire app Instacart, and Walmart's rival Target, merged with the second nationwide rent strike from New York to San Francisco, made this May 1 especially memorable. Similarly Berlin's antifas did not cancel their traditional "1Mai" riot in Kreuzberg and elsewhere, although there were changes to the format (fireworks from roofs and windows of squatted buildings, spontaneous gatherings etc).
In Milan, SI Cobas (Cobas is a generic term in Italy since the 1980s – it's shorthand for Comitati di Base, Rank-and-File Committees – it means non-mainstream unionism, a rank-and-file union devoted to revolutionary Marxism). which is strong among drivers and handlers in warehouses south of the city, and ADL Cobas, strong in the Negrian Venice region of white overalls (a group of Italian anti-globalization activists still active in climate activism) which has recently opened a Camera del Non Lavoro (Chamber of Non-Work) in Milan with autonomous student collectives, organising protests with workers and delegates. The former unfurled damning banners and delivered an angry indictment on May Day in front of Lombardy's seat of the regional government, which has badly mismanaged the covid crisis, exterminating the elderly in its care and refusing to shut down the factories and steel works of Bergamo and Brescia, the two cities most grievously affected by the epidemic. The latter mobilised drivers and riders in front of work sites of logistic companies like FedEx and TNT either to ask for furlough pay or for masks, glove, and goggles for the unprotected precarious work force.
In Turin and Florence, riders of Deliveroo, Glovo, Uber, and JustEat went on strike on Primo Maggio asking customers to cancel their orders on this International Workers' Day. Riders are excluded from covid welfare transfers because they are neither employees nor self-employed. They ended with an illegal bicycle demonstration that took them to Piazza Castello in Piedmont's capital, where the traditional ebullient Mayday always concludes . Companies were late in providing protective equipment and educating customers about health protocols. In deserted Milan if you traversed the city by bicycle under quarantine (terminating tomorrow) all you could see were gig riders and police cars (and wailing ambulances, of course). In Milan, Deliverance Project (a political organisation of food delivery riders) launched Rider x diritti (Riders 4 Rights) a list of demands including the employment and welfare rights of food delivery workers, which was signed by gig labour groups in all major Italian cities and even by UILTucs, a national retail workers' labour federation. Feminist collectives from Non Una di Meno (Ni Un Menos) staged Tel-Aviv style Mayday pickets in front of Cantiere and Macao social centres. Many were members of Voluntary Brigades for the Emergency, the semi-official groups of activists carrying our mutual aid in the city, who have gained enormous respect because they have been the only ones providing the peripheral neighbourhoods left abandoned by local government with food and medical aid. They are our hope to defend society as Phase 2 ominously opens under pressure by industrialists and right-wingers, so that coronavirus deaths are set to escalate once more if we don't act.
The Italian constitution opens by saying (article 1) that Italy is a democratic republic founded on labour. On May 1, Italy's centre-left president argued that with labour out of jobs there is no republic and no democracy. Actually, for more than twenty years the Italian republic has been based on precarious labour. As the whole of society becomes precarious due to the corona crisis, the time has come for the precariat to rise and lead the working class in a groundswell that overthrows neo-liberal capitalism for good. In the coming years, there will be scarcity and deprivations as global warming and beggar-thy-neighbor protectionism take their tolls – we have to build dual bioregional power structures against financial governance and national-populist Darwinism instead installing an eco-socialist and ecofeminist government. There is simply no alternative for collective survival in our urban environments.
BRAVE NEW EUROPE brings authors at the cutting edge of progressive thought together with activists and others with articles like this. If you would like to support our work and want to see more writing free of state or corporate media bias and free of charge, please donate here.