This article is worth reading just for the facts in paragraph 4
Our consumer choices, from buying less tobacco to more diesel, are shaped by government policy. What if we applied it to air travel?
By Alex Chapman, Senior Researcher at the New Economics Foundation
Cross-posted from the NEF website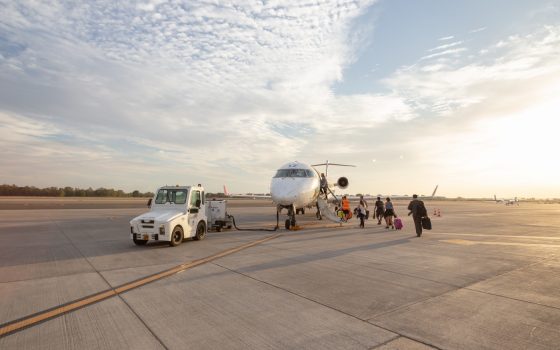 Changing the system is hard. There's no doubt about that. Yet if ever there is a moment when the cosy consensus of 21st century economics can be challenged it's in the aftermath of a crisis like this. The breaking of so many economic myths-turned-rules has opened a door, but system change still isn't guaranteed. The founding of the NHS and expansion of the welfare state after the second world war show us what might be achieved. But we at NEF, along with many others, failed in our attempt to seed a revolution of green investment and better working conditions out of the 2007/​08 financial crisis: the Green New Deal. The neoliberal institutions won out, hijacking the narrative with their austerity agenda.
A few weeks ago I was given a grim reminder of our failure, with the latest release of the Office for National Statistics (ONS) Family Spending Workbook. This dataset tracks average household spending patterns in the UK in relatively fine detail and allows comparisons between spending in the 2001-02 and 2019 – 20 financial years. What it shows is shocking: when adjusted for inflation (ie, put in current prices), average household spending in the UK has changed by only a single pound, from £586.90 in 2001-02 to £587.90 in 2019 – 20 — anyone else wondering what happened to all that GDP growth the media were constantly talking about?
Beneath the hood however, things have changed. The proportion of their money that UK households spend on rent and building service charges has doubled. Gas and electricity bills have both grown their share of total expenditure by 40%, and rail season tickets are up 50%. Spending on council tax is up 40%, reflecting local authorities' valiant attempts to mitigate the damage caused by austerity. And spending on dentists and opticians has tripled, as the slow creep of NHS privatisation continues.
In amongst this depressing array of predictable statistics, one category of household spending jumps out. Spending on international travel has changed more than any other category. Households spend 330% more on international flight tickets, 50% more on package holidays abroad, 80% more on accommodation abroad, and 32% more on money spent directly while overseas. In 2001-02, spending in these four categories (in 2019 – 20 prices) was at around £1,600 per household per year. By 2019 – 20, spending had reached £2,600.
Sitting behind these numbers is enhanced opportunity and the benefits of cultural exchange, as long-distance travel has become far more widely accessible. Yet these changes have not been driven purely by individual preference. The government has promoted international air travel, by handing tax exemptions to the aviation industry worth around £7bn a year, providing exemptions from climate targets and carbon taxation schemes worth billions. Over the years, the government has sanctioned a multitude of airport expansions – directly to the detriment of the neighbouring communities who are left to deal with the health and wellbeing impacts of resulting noise and air pollution. And they have handed out billions in emergency support to airlines and airports through the pandemic.
The decision to pump vast amounts of state support into the air travel industry was not about providing the opportunity of travel for all. Indeed, it is well documented that air travel remains the domain of the wealthy. In fact, the government's preference for aviation is linked more to what was once a set of economic models, and is now an economic ideology. These models suggest never-ending economic growth can be achieved if only we had a few more flights, a couple more routes, or a closer airport.
Few people are suggesting we end air travel completely. But the UK already has enough air capacity to send every single resident to the skies at least three times a year. Many of us are suggesting we stop expanding our air capacity. After all, there is no safe route to a zero-carbon economy while growing the aviation sector — the technology simply isn't there. But to tackle the aviation problem, we will need to confront the economic orthodoxy. The thinking which, as I write this, has turned the heads of councils up and down the country in favour of airport expansion, has sent the planning inspectorate (who recently approved Stansted Airport's application) starry-eyed, and has cowed many in the UK's political opposition into fearful silence.
The choice we face in aviation reflects bigger questions facing UK society. What type of future do we want? If it's one which prioritises a vibrant, local economy focused on social and environmental wellbeing, now is not the time to be encouraging tourist cash to flow through airports and into overseas economies, inflating the UK's travel spending deficit while pumping pollutants out at high altitude.
Evidence from 20 years of household expenditure shows that the government has the power to shift the system. Look carefully at the data I referred to above and you can see the decline in household spending on tobacco, a direct result of proactive government policy and regulation. But you can also see government policy gone wrong, such as in the significant rise in spending on heavy-polluting diesel fuel, a direct result of a misguided subsidy regime.
To tackle the climate crisis, and ​'build back better' out of the global pandemic — two key pledges of our present administration – the government mustn't be afraid to use its power to shape not just individual's spending decisions, but the structures which determine how fair and sustainable our economy is. Part of this should be a frequent flyer levy. With a frequent flyer levy, the first return flight each passenger took a year would not be charged tax, but each subsequent flight would be taxed at an increasing rate. Frequent flyers (who are generally high earners) would be charged more, to encourage them to reduce their flying. This policy is a useful flagship as it embodies both the principles of environmental action and social justice in one relatively simple concept. The frequent flyer levy also represents a direct challenge to the cosy consensus on the economics of airports and air travel, but for that reason it'll take more than a think tank report to secure.
If we are to avoid a repeat of history and this time succeed in our campaign for a Green New Deal, and policies like a frequent flyer levy, we will need to do a better job of organising and building the power to ensure our alternative vision for the UK is heard, and becomes an inevitability. With the present government less resolute in its neoliberal ideology after a decade of failures, we have already seen multiple examples of how coordinated mass pressure can create this inevitability. The government's capitulation on free school meals became an inevitability, as did the collapse of the European Super League, the extension of the furlough scheme, and the universal credit uplift. The power to create inevitability is not within the hands of corporate interests and the super wealthy, it is only wielded by people and communities. Let's make an end to the cosy consensus just as inevitable.
BRAVE NEW EUROPE is a not-for-profit educational platform for economics, politics, and climate change that brings authors at the cutting edge of progressive thought together with activists and others with articles like this. If you would like to support our work and want to see more writing free of state or corporate media bias and free of charge, please donate here.