Spain's state terror takes no end, even in the midst of the human catastrophe we are all going through. And what we are seeing in  the case of Julian Assange is no different.
Toni Strubell  is a former MP in the Catalan Parliament, journalist, and author of What Catalans Want
Núria Bassa Camps is a Catalan Photo Journalist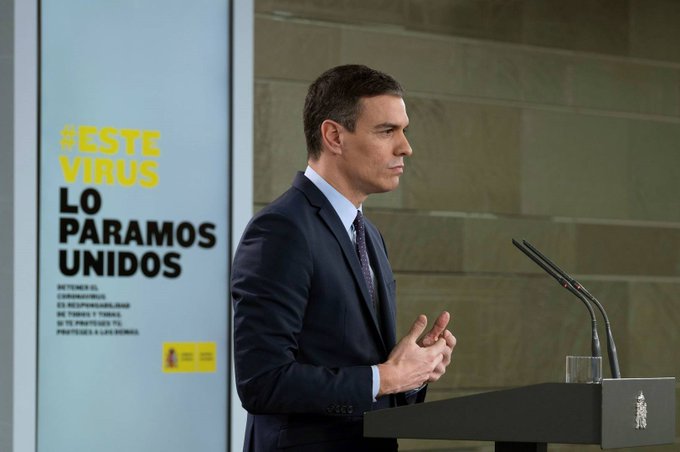 The slump in democratic and political standards that is marking the current meander in Europe (EU and UK) becomes particularly alarming when we analyse the handling of the COVID-19 crisis. Although the Council of Europe's Human Rights commissioner, Dunja Mijatovic, self-righteously called upon member states (April 6th) to seek non-discriminating "alternatives" to imprisonment for inmates in member states – during the Coronavirus confinement – there is nothing to suggest that disciplinary steps will be taken if these "alternatives" are not applied in member states.
Today Ms Mijatovic called for home confinement for elder prisoners or ones with no violent criminal record, a step she defined as crucial in order to counter excessive inmate density and prison staff stress caused by Coronavirus. She also added that inmates who are defenders of human rights, activists or journalists should now be freed immediately and without conditions. One may ask: why now exactly?
One thing that is significant about her statement, however, is that, as against on other occasions, it should specifically address Spain's famous Supreme Court, and the subservient Catalan penitentiary authorities, for not allowing Catalan political prisoners to spend the COVID-19 confinement period at home. On reading this, one's immediate reaction is to ask whether this is finally an EU admission that Spain does indeed have "political prisoners" as such. Is it?
A second reaction is to wonder if there is any intention here of informing us that it is wrong to hold journalists and activists in EU prisons during a COVID-19 pandemic, but no problem once it is over. Is that also what is meant?
The question this inhuman situation immediately begs is why thousands of prisoners in some European countries are being freed, while others are not. In contrast, why are Spain and the UK making a special point of retaining prisoners of such a distinctly political nature? How can it be, for example, that common prisoners in Spain and England are to be freed while activists such a Julian Assange, Jordi Sànchez and Jordi Cuixart are not? Can't they go down with COVID-19? Are they immune or something? Are they not in danger in the prisons they are in?
Health experts in England have clear answers to these questions. They say that Mr Assange's prolonged period of confinement has had a devastating effect on his lungs. In no uncertain terms, they claim that his life would be put in great peril should he suffer COVID-19 contagion.
As regards this same issue, what can we say about Cuixart and the other Catalan political prisoners? We know that the section of Lledoners prison that seven of them are being held in has a distinctly higher (and more dangerous) density of prisoners than it had two months ago before the crisis. Is that normal? We also know that the only prisoners in Spain – murderers, drug peddlers, embezzlers and thieves included – that Spain's Supreme Court has insisted must not be allowed home for confinement, are the Catalan political prisoners. They have even gone so far as to issue threats – on whatsapp! – against any civil servant tempted to let them go home. Will commissioner Mijatovic be saying anything about this in her next press appearance?
When speculating on the effects of the COVID-19 crisis on democratic standards in Europe (and elsewhere), the fears of Korean philosopher Byung-Chul Han go beyond individual or group discrimination though. He claims that it is placing the West's liberal tradition, or what remains of it, on the verge of extinction. He fears COVID-19 is the perfect storm for a dire return to authoritarianism based on Asian discipline and social obedience-induction.
In Spain, the recipe for this authoritarian backlash has come in the form of the application – for the second time since 1978 – of a legal gadget called the "State of Alarm". This perverse tool, now put to use once again by Spain's "socialists", forms part of one of the lesser known clauses of the very bendable Spanish Constitution. The first time they used it was to counter the air traffic controllers' strike of 2010. Though the strike was justified in legal terms, the Spanish government preferred to combat it by calling a "State of Alarm", a resort which enabled Zapatero to call out the army, militarize airports and conduct a form of populist media-lynching of strikers worthy of Maggie Thatcher.
This time, it is president Sánchez that has used the same "State of Alarm" clause. By doing to, he has been able to undermine Spain's constitutional working order as regards the health and security administration. He has replaced those who for years have been responsible for close-to-the-ground health administration with guileless government pundits. These are epitomized by one government spokesperson who, just a few weeks ago, predicted "very few COVID-19 cases" in Spain. Incredibly enough, he still holds the post. As Naomi Klein would doubtless point out, such moments of traumatic social conflict – induced or not – provide perfect seedbeds for truth abduction and the introduction of permanent authoritarian politics. This is exactly what we are witnessing today in Spain.
Europe is now at a crossroads at which it must decide if is it to take the direction of Asian authoritarianism, induced populist "States of Alarm" and unquestioned civil obedience – as Viktor Orbán, Boris Johnson and Pedro Sánchez would have us do – or that of prioritizing life-saving, rational scientific approaches and democratic practice.
BRAVE NEW EUROPE brings authors at the cutting edge of progressive thought together with activists and others with articles like this. If you would like to support our work and want to see more writing free of state or corporate media bias and free of charge, please donate here.