Uber is doing some massive lobbying in Brussels (they spent 200 million dollars to block the labour law in California declaring Uber drivers employees) and they have loads of money for the EU Snouts in the Troughs in Brussels. App workers may have limited funds, but they have the will to win this fight.
Ben Wray is a freelance journalist leading BRAVE NEW EUROPE'S Gig Economy Project.
---
---
This series of articles concerning the Gig Economy in the EU was made possible thanks to the generous support of the Foundation Menschenwürde und Arbeitswelt

---
---
Unions and app-worker collectives from around the world are set for a global day of protest on Wednesday [24 February] to tell the EU Commission that they expect it to end the 'fake self-employment' of app-based workers in Europe.
The EU Commission officially opens the first stage of its consultation on Wednesday for its Directive on regulating platform work, which will be binding on all EU nation-states. Full proposals are expected by the end of the year.
Alianza Unidos World Action (UWA), an international coalition of app-based workers and unions, has brought together 31 organisations from 16 countries across three continents for Wednesday's mobilisation.
"Uber, Deliveroo, Glovo, Amazon, Rappi and Pedidos Ya are lobbying the European Union to maintain the unjust misclassification of gig workers as independent contractors and are trying to spread the misery of Prop 22 around the world," a UWA statement ahead of the protest reads.
The UWA have a set of specific demands they are calling on the EU to deliver:
• A living wage that provides security and dignity (with defined hourly rates)
• A safety net including accident insurance, sick leave and unemployment insurance.
• Rights to union representation, negotiation and collective action.
• No more arbitrary and unjust deactivations from the app
• Apps should be subject to public and trade union oversight through a public register
• All users must have the right to access and control their data, along with its use and the profits it generates.
Demonstrations have been organised in front of EU offices in Brussels, Vienna, and Paris, with mobilisations also confirmed in Barcelona and Milan. Workers outside of Europe, including in San Francisco and Los Angeles in the US and in Mexico City, are set to march on European embassies to make it clear they believe this Directive is of global importance.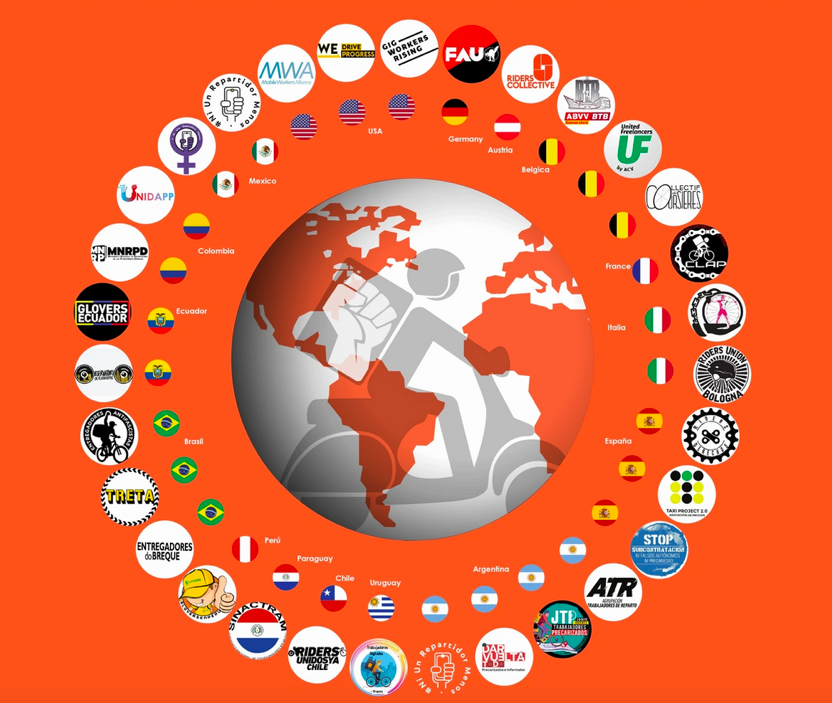 In Spain, a coalition including Riders for Rights, Taxi Project 2.0, the Stop Outsourcing platform and platform for the Defence of Public Services have stated prior to the mobilisation that they will be demonstrating not solely to defend drivers and riders, but all platforms workers, including those with less public exposure such as care workers and cleaners, citing statistics finding 4000 platforms are currently in operation in the country. Spain has the highest number of platform workers out of any European economy, at over 18 per cent of the total workforce.
"We cannot open the big door to the Uberisation of workers who do not yet suffer it," the demonstrators add.
The Barcelona mobilisation will also be highlighting the many court cases internationally which have already found that app-based workers are employees, with the slogan: "No legal uncertainty, there are only companies that skip the law!" These court verdicts include Italy, France, Uruguay, Bolivia, Chile, Belgium and Spain, where 41 courts have now ruled against platform companies like Deliveroo and Glovo. Last week, the UK Supreme Court found that Uber drivers are workers.
The fragmented way in which governments and courts across Europe have approached the emergence of the gig economy is partly why the EU Commission is now pursuing a Directive on the issue. Speaking to the Gig Economy Project earlier this month, Leïla Chaibi MEP, a campaigner for gig workers' rights who has drafted a proposal for the Directive in an effort to lobby the unelected EU Commission, said campaigners' expectations should be "optimistic but rational" about the forthcoming Directive.
"The corporate lobby are very strong in Brussels," the France Insoumise MEP added.
It was reported last week that Uber has recently lobbied the EU Commission to introduce Prop 22 style legislation in Europe. The digital platform, along with other taxi platforms like Cabify and Lyft, won its referendum ballot in California in November after spending over $200 million dollars, a record for a state referendum, to defeat the AB5 labour law which had been introduced in January 2020. AB5 had sought to force platform companies to provide basic rights like sick leave and overtime pay.
Mike Long, spokesperson of the Mobile Workers Alliance in California which is organising protests at European embassies in the state on Wednesday, told the Gig Economy Project that following Prop 22 "Uber, Lyft, and other gig giants have set their sights on exporting the same predatory legislation to countries around the world."
"As the European Commission considers protections for gig workers, it's critical that rideshare and delivery drivers around the globe work together to push back on gig companies' attempts to undercut worker rights in the midst of the COVID-19 pandemic," Long added.
Demonstrators will be using the hashtag #StruggleForRights to share videos and images of the protests.
BRAVE NEW EUROPE is an educational platform for economics, politics, and climate change that brings authors at the cutting edge of progressive thought together with activists and others with articles like this. If you would like to support our work and want to see more writing free of state or corporate media bias and free of charge, please donate here.