In recent years, individuals and communities have taken their governments and companies to court for climate inaction. And they're having success.
Lucy Maxwell is a human rights lawyer working on climate change litigation, and Senior Legal Associate at the Climate Litigation Network
Cross-posted from the New Economics Foundation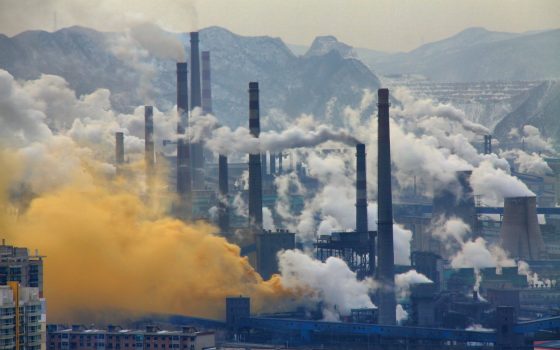 Photo: Andreas Habich (CC BY-NC-ND 2.0)
The world is heading towards catastrophic climate crisis, and the facts are stark: the past decade was the hottest on record, and extreme weather events are wreaking havoc around the world. Without deep and immediate climate action, we are on track to exceed global heating of 1.5C within the next two decades, and up to 3C by the end of the century.
There is no ​'safe' level of global heating. A 3C warmer world would be a hostile environment for all life, transforming the world as we know it. Our best chance to prevent the most severe impacts of climate breakdown is to hold global heating to below 1.5C, according to climate science. Countries committed to pursuing this target when they signed the international Paris Agreement at a UN climate summit in 2015. Since then, the science has only become firmer.
The action required is also clear: we must halve global greenhouse gas emissions this decade to hold global heating below 1.5C, according to the world's leading climate scientists. Developed countries must take the lead in adopting deep emissions reductions – which means reaching net-negative emissions by 2030. In this context, there is no room for us to search for new fossil fuels to extract.
And yet, governments and companies are nowhere close to meeting this challenge. Countries' current climate pledges are ​"seriously inadequate" to achieve the goals of the Paris Agreement, according to the UN Environment Programme. To have any chance of staying below 1.5C, their ambition needs to increase fivefold – and fast. In the lead-up to Cop26, the UN climate body has issued a grave assessment: countries' current pledges would see global greenhouse gas emissions increase by 16% by 2030 (compared to 2010 levels) – nowhere near the halving of emissions required. The International Energy Agency has echoed this warning, reporting a ​"stark" difference between current pledges and the net zero goal: global emissions would only be reduced by 40% by 2050 – a far cry from net zero.
Flying in the face of science, fossil-fuel exploration and exploitation continues at pace: governments in Norway, the UK and Australia continue to approve (or consider approving) new oil and gas exploration and coal mines. Carbon majors – the world's largest fossil-fuel companies – continue to push for expansion of new fossil-fuel reserves, especially in the Global South.
Faced with this culpable conduct from governments and fossil-fuel companies, communities around the world are demanding accountability. In recent years, alongside global school student strikes and non-violent direct action, attention has turned to the courts. From the Netherlands, to South Korea, Colombia, and South Africa, people are looking to the courts as a last resort, to compel high-emitting countries and companies to take urgent action, and, in some cases, to compensate for the harm they have already caused.
Climate litigation refers to a wide range of lawsuits in courts or tribunals which have the climate crisis as their central focus. Climate litigation is defined by its diversity. Plaintiffs can be individuals, groups, NGOs, shareholders, companies or sub-national governments. They may seek to compel greater climate action by governments or companies – or to restrain it (something the big fossil-fuel companies have attempted in recent high-profile cases).
Climate-related cases have been filed in 40 countries and the total number has more than doubled since 2015, according to the latest tally. Young people, elderly people, First Nations peoples, NGOs, sub-national governments and communities exposed to climate-related risks have brought cases seeking greater climate action from governments and fossil-fuel companies. These cases target the full range of climate ​'misconduct'. This includes: governments' weak mitigation efforts (especially in the Global North); their failures to stop deforestation; their support for the fossil-fuel industry; and their decisions to approve new oil exploration, coal mines and airport expansions. When it comes to targeting companies, cases also challenge their weak mitigation efforts, as well as widespread greenwashing, and in some cases, seek compensation for their outsized contribution to climate change.
Common to all such cases is a desire to hold powerful actors accountable based on unequivocal scientific evidence and existing legal obligations. These cases draw inspiration from other moments when marginalised groups have achieved justice in the courts – from battles against Big Tobacco, to land rights for First Nations peoples, and ongoing fights for equality. In the climate crisis, litigation offers a chance to hold governments accountable to their legal commitments (which date back at least three decades to the first UN climate treaty, signed by 196 countries and the European Union) and to scrutinise the climate commitments of governments and companies against science in an objective forum.
Many climate cases have been inspired by the successful, world-first case against the Dutch government. In 2015, a Dutch court upheld the challenge by the Urgenda Foundation, a Dutch sustainability organisation, to compel the Dutch government to increase its climate ambition, leading to the closure of almost all coal-fired power generation and €3bn in low-carbon investment. This was the first time globally that a court had ordered a government (or company) to reduce its emissions, leading to real-world reductions.
Since then, and particularly in the past year, there have been a series of breakthrough positive court rulings in cases against governments and companies. Courts in Ireland, France, Germany, Belgium and Australia have recognised that governments have a legal duty to take action to mitigate the climate crisis, and in some cases, have required additional mitigation action to be taken. In June 2021, a Dutch court issued a landmark decision against Royal Dutch Shell, ordering the company to reduce the emissions from its global activities by net 45% by 2030 relative to 2019 – the first decision of its kind globally.
Climate litigation is an important tool, among others, for challenging the dangerous inaction of governments and companies. But there are drawbacks: it can be slow, costly and demanding for the individual plaintiffs. To be effective in spurring systemic action, climate litigation also needs to be part of a broad social movement and a well-developed advocacy strategy.
Given, however, that developed countries and carbon majors are guilty of inexcusable inaction on climate breakdown, national courts have a critical role to play in scrutinising their climate-related conduct, and determining whether it meets the standards imposed by law. These decisions illustrate that climate litigation can compel high-emitting countries and companies to increase their mitigation efforts, with global ripple-effects.
BRAVE NEW EUROPE has begun its Fundraising  Campaign 2021
Support us and become part of a media that takes responsibility for society
BRAVE NEW EUROPE is a not-for-profit educational platform for economics, politics, and climate change that brings authors at the cutting edge of progressive thought together with activists and others with articles like this. If you would like to support our work and want to see more writing free of state or corporate media bias and free of charge. To maintain the impetus and impartiality we need fresh funds every month. Three hundred donors, giving £5 or 5 euros a month would bring us close to £1,500 monthly, which is enough to keep us ticking over.
Please donate here